This sweet potato crust quiche is the breakfast of your dreams! The delicious sweet potato crust is made with grated sweet potatoes, almond flour, cornmeal, and an egg.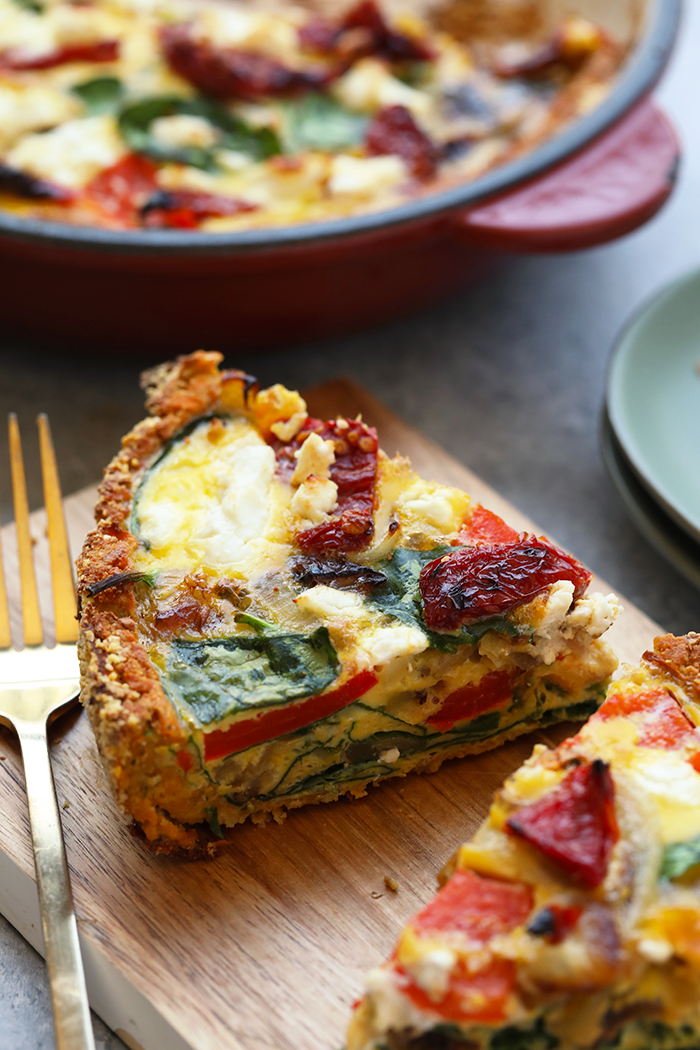 Best Sweet Potato Crust Quiche Recipe
If you are looking for a show stopping quiche to serve at any holiday or brunch, make this Sweet Potato Crust Quiche!
There is no flour and or store-bought crust involved because the crust is made out of mostly SWEET POTATO. So, if you love sweet taters, you will love this sweet potato quiche recipe!
Why Make This sweet potato quiche?
Here is a little bit more info for you:
Healthy: this sweet potato quiche is primarily made with veggies and eggs making it high protein and packed with nutrients.
Gluten-free: since the crust is made with grated sweet potatoes and almond meal, it's gluten-free friendly.
Veggie-Packed: talk about veggies. The crust is almost all vegetable, but then the quiche is packed with more veggies, including peppers, onions, and spinach.
Perfect for Brunch: this truly is the perfect recipe to share at brunch.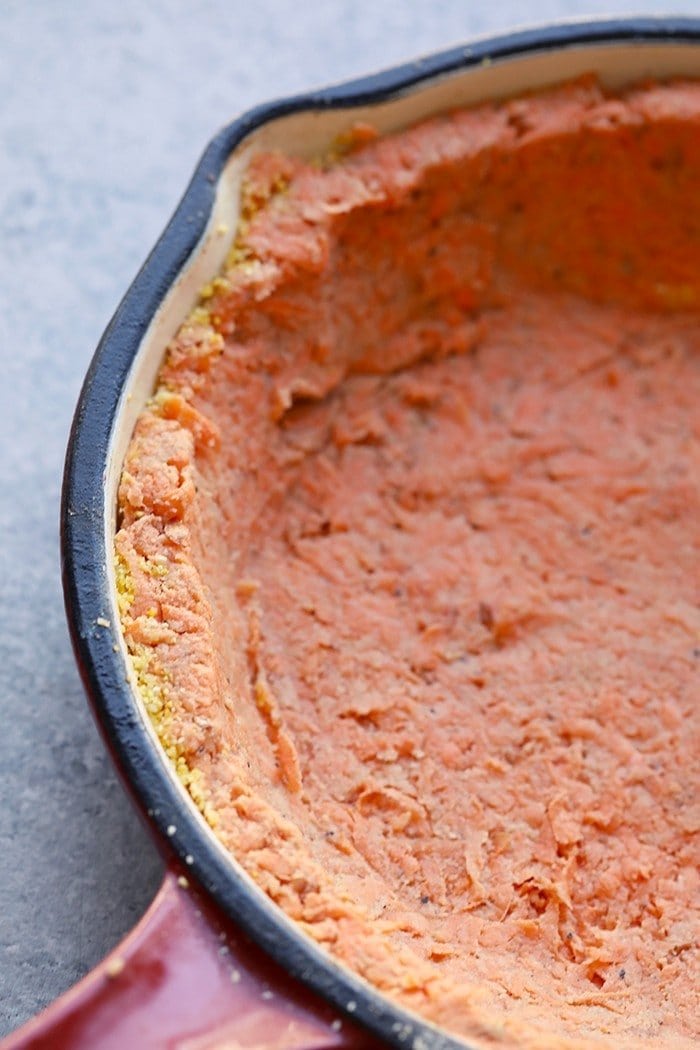 Main Ingredients
The sweet potato crust alone adds so much flavor to this dish, but when you combine with the quiche filling of veggies, eggs, and cheese, it really is a flavor explosion in your mouth!
For the Crust
Grated Sweet Potato: the basis of this crust is made up of grated sweet potato. We used a simple cheese grater to grate out sweet potatoes.
Egg: an egg help everything bind together so that it doesn't fall apart when baking.
Spices: you need garlic, cloves, salt, and pepper.
Almond Flour: we kept this crust grain free with almond flour. Almond flour is light and nutty in flavor.
Cornmeal: a little bit of cornmeal is used to help prevent the crust from sticking to the pan.
For the Quiche
Eggs: you need 8 large eggs for this recipe.
Milk: any kind of milk should do.
Veggies: you can really use any vegetables you want, but we used caramelized onions, spinach, red pepper, and sun-dried tomatoes.
Cheese: what is a quiche without cheese? We used goat cheese.
How to Make Sweet Potato Crust Quiche (step-by-step)
Grate and Drain Sweet Potato: first, grate your sweet potato using a cheese grater and then place it in a large bowl and sprinkle it with salt. Let sit for 15 minutes to draw out the moisture. Next, transfer sweet potato in between a few pieces of paper towel and squeeze as much moisture out as you can.
Mix Crust: Transfer grated sweet potato into a large bowl and all the rest of the crust ingredients. Mix to form a ball.
Cook Crust: Transfer dough into a 9-inch circular crust and use your hands to press it down to form your crust. Make sure that your pan is well greased and sprinkled with cornmeal first. Bake crust at 425ºF for 20 minutes.
Whisk Eggs: Combine quiche filling by whisking eggs and milk in a large bowl. Add
Bake Quiche: Place all of your chopped veggies on the bottom of the quiche and pour the egg mixture on top. Top with sun-dried tomatoes and goat cheese. Cover sweet potato crust quiche with tin foil and bake at 425ºF for 20 minutes. Remove tin foil and bake for 10-15 more minutes or until the egg is cooked all the way through.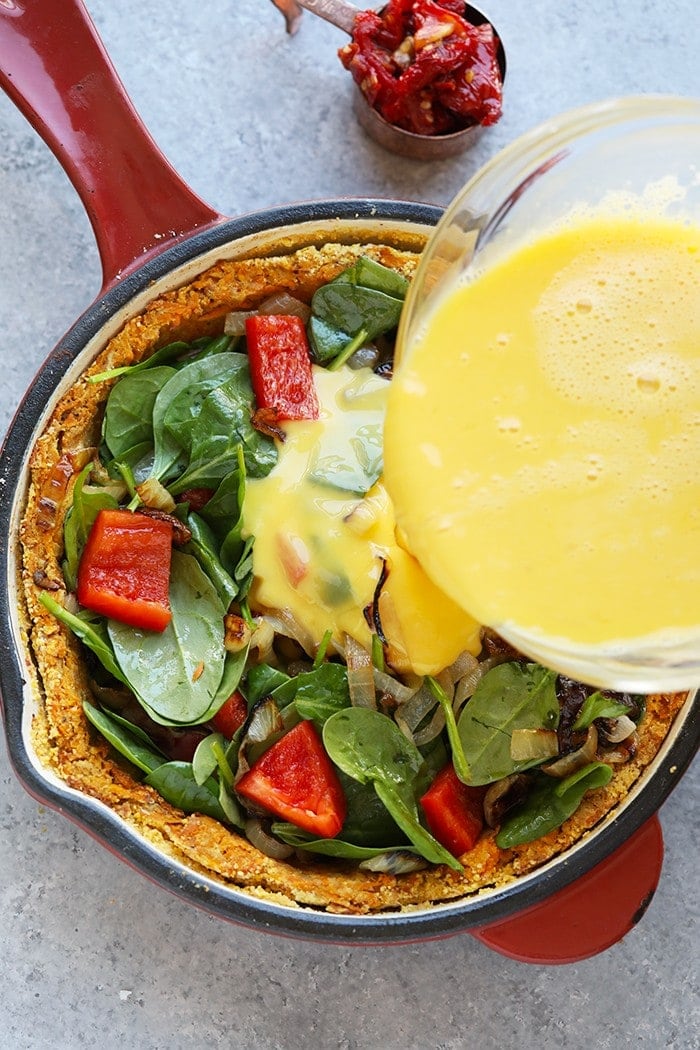 Top Tips for Sweet Potato Crust Quiche
Moisture: The trick to this crust is actually ringing out as much moisture as possible from the sweet potatoes so that the crust can firm up.
Cheese Grater: We used a cheese grater to shred the sweet potato, it works like a charm.
Cornmeal: You'll notice that we sprinkled some cornmeal on our cast iron skillet and we did this is for 2 reasons.
So that the quiche easily removes from the pan and so that there's little to no stickage and
Crunch! Cornmeal gives it a little extra texture and flavor. Note that if you'd like this recipe to be 100% grain-free you can swap the cornmeal with almond meal.
Storage
Let quiche cool completely. Then, cover it with tin foil and store it in the refrigerator for up to 3-5 days.
Can you freeze sweet potato crust quiche?
We don't recommend freezing this quiche.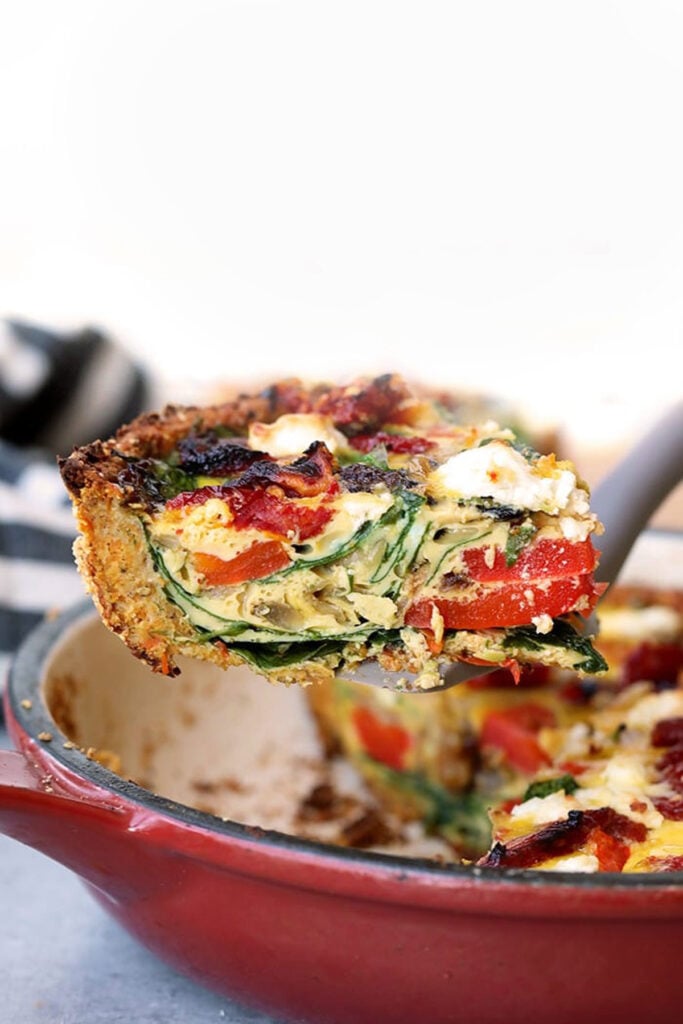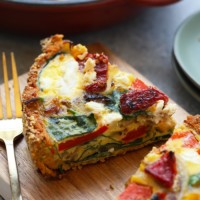 Sweet Potato Crust Quiche Recipe
This sweet potato crust quiche has the most amazing crust that's made with sweet potatoes and almond flour. The quiche is packed with eggs, veggies, and goat cheese.
Prep: 30 minutesCook: 55 minutesTotal: 1 hour 25 minutes
Fat 25 Carbs 20 Protein 16
Yield 6 1x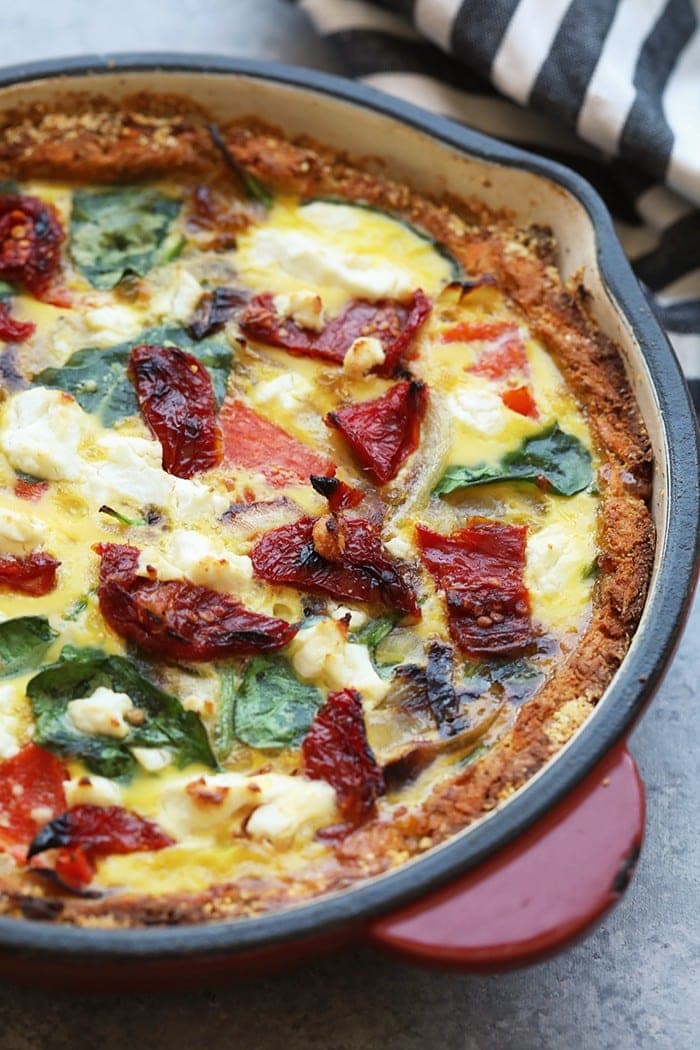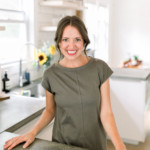 Linley is a 5′ nothing spitball of positive energy who joined Team Fit Foodie in the Spring of 2014. Linley has worked on the digital side of small businesses and nonprofits since 2011, where she specialized in social media community management. Lin has a passion for food and an incredible palate. She is FFF's chief recipe developer, so you can thank her for these incredible recipes!