This sheet pan chicken and veggie dinner is an easy dinner that anyone can make. You throw sweet potatoes, cauliflower, and chicken thighs on a baking sheet, season them all and bake them to perfection!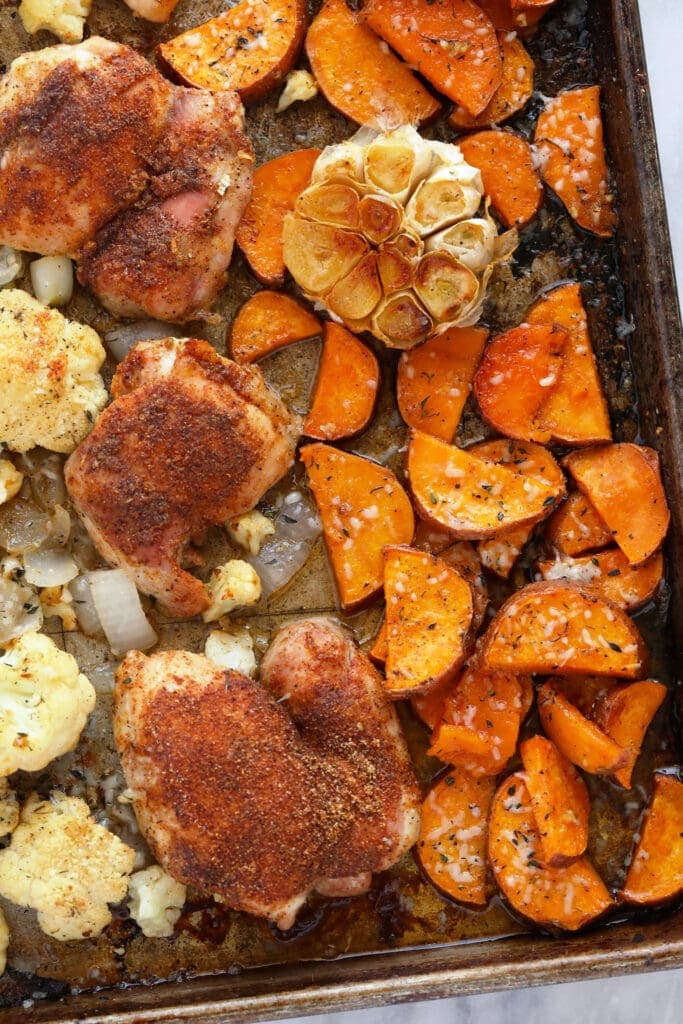 The BEST Sheet Pan Chicken
Have you ever wished that you can throw everything for dinner on a baking sheet and just throw it in the oven? Well, your wish is our command! This sheet pan chicken and veggies meal is just that.
This sheet pan chicken meal is made with your favorite vegetables, a delicious chicken seasoning, and a whole roasted head of garlic that is so heavenly you'll never prepare garlic another way.
Everything You Need
You don't need much to make this sheet pan chicken and veggies meal. Another beautiful thing about this chicken recipe is that you can make substitutions if you don't have everything on the ingredient list.
Ingredients
Chicken thighs
Sweet potato
Cauliflower
Onion
Garlic
Chicken seasoning– our delicious chicken seasoning is a combination of garlic powder, chili powder, cumin, dried thyme, ground mustard, dried basil, ground pepper, red pepper flakes, salt, brown sugar, and paprika. If you don't have every spice, don't worry, you can go without some spices or even substitute with something you have.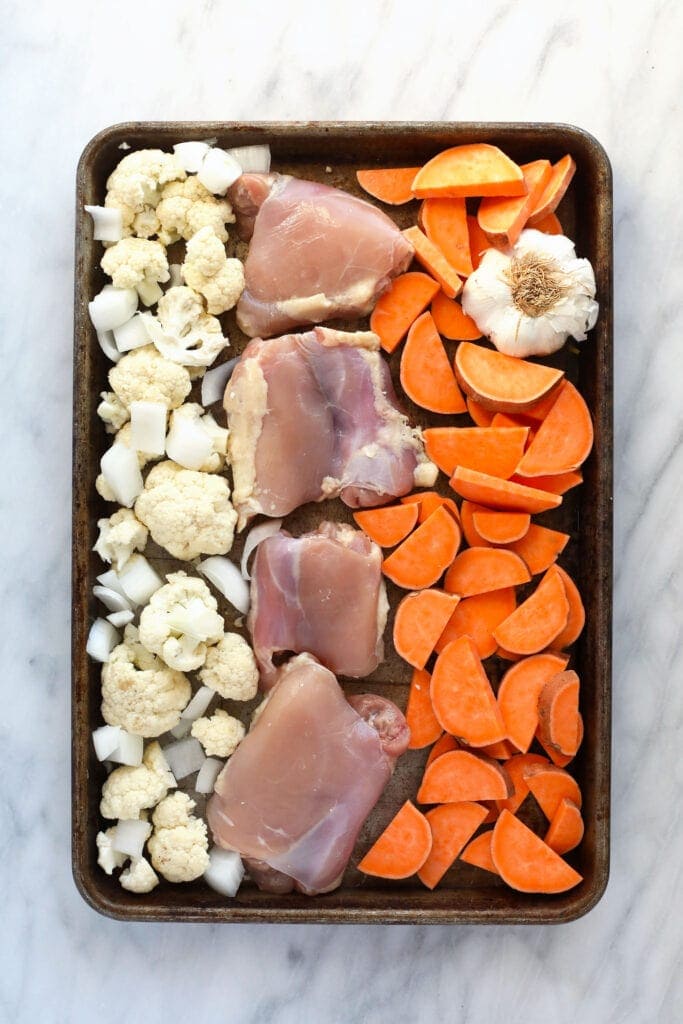 How to Make Sheet Pan Chicken + Veggies
Preheat: Before anything preheat the oven to 400ºF and spray the baking sheet with non-stick cooking spray or drizzle with olive oil.
Season the chicken: Sprinkle the chicken thighs with the chicken seasoning and use your hands to rub the chicken seasoning into the chicken. Be sure the whole chicken thigh is covered. Let the chicken sit.
Season the veggies: Sprinkle the sweet potatoes, cauliflower, onion, and garlic with salt and garlic powder.
Throw it on the baking sheet: Place the chicken down the middle of the baking sheet and spread the sweet potatoes out on one side of the chicken and cauliflower and onion on the other side.
Drizzle everything: Drizzle the chicken and vegetables with the olive oil, maple syrup, and garlic drizzle and toss.
Bake! Place the baking sheet in the oven and bake for 20 minutes, toss, and then bake for another 15 minutes.
Change up the seasoning
This is your sheet pan chicken and veggies meal! You can flavor it however you'd like. If you'd like to spice it up, add a little cayenne pepper to the chicken seasoning.
Or? Feel free to marinate the chicken thighs for a few hours in one of our favorite chicken marinades.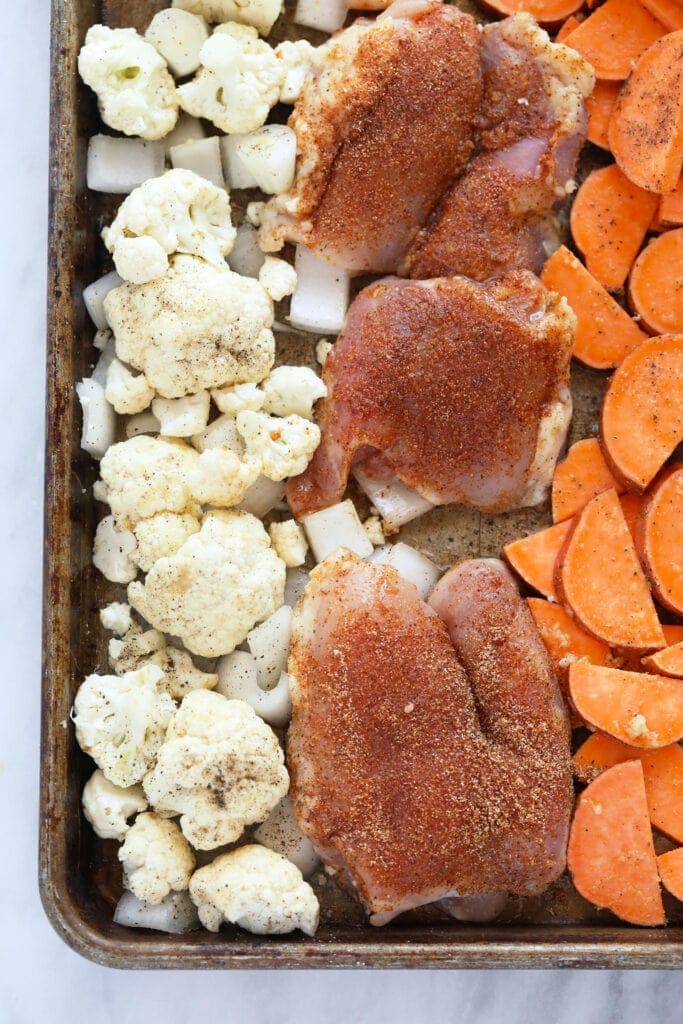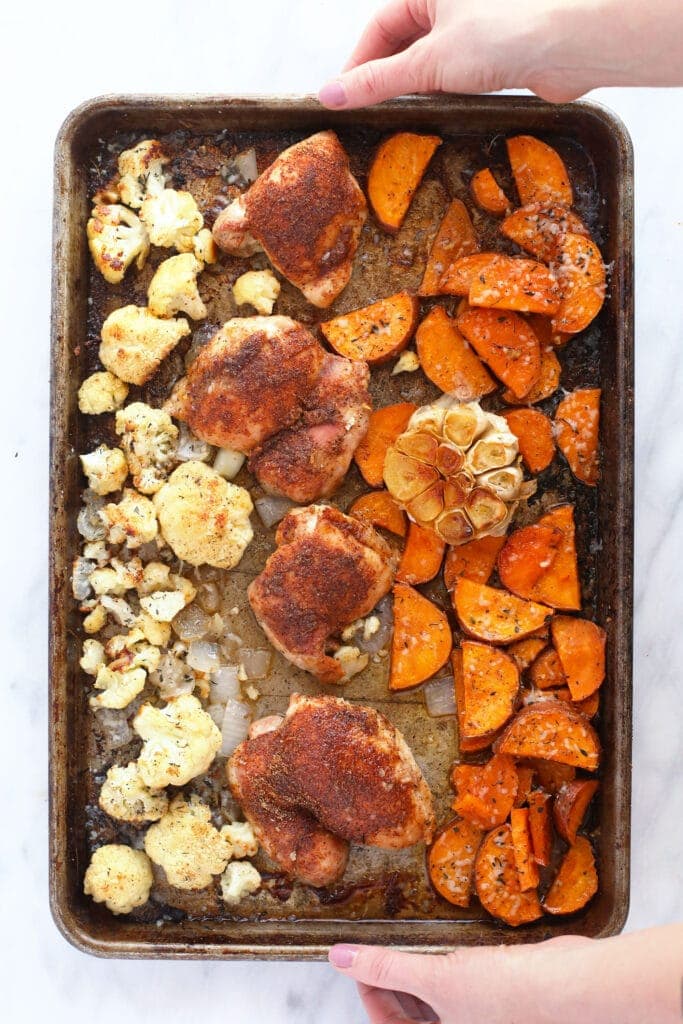 Sheet Pan Chicken Tips + Tricks
Make sure you oil the baking sheet.
The last thing you need is for your chicken thighs and our vegetables to stick to the baking sheet. Be sure to generously drizzle or spray your baking sheet before putting everything on the baking sheet!
You can use any kind of chicken.
Can I use chicken breasts in this recipe? Yes, you most certainly could use chicken breasts for this recipe. The bake time would be different depending on your chicken breast size. Be sure that the internal temperature of the chicken is 165ºF and you're golden.
Switch up the veggies.
You can substitute the vegetables in this recipe for any of your favorite veggies! Below are some great vegetable substitutions.
Red potatoes
Broccoli
Carrots
Mushrooms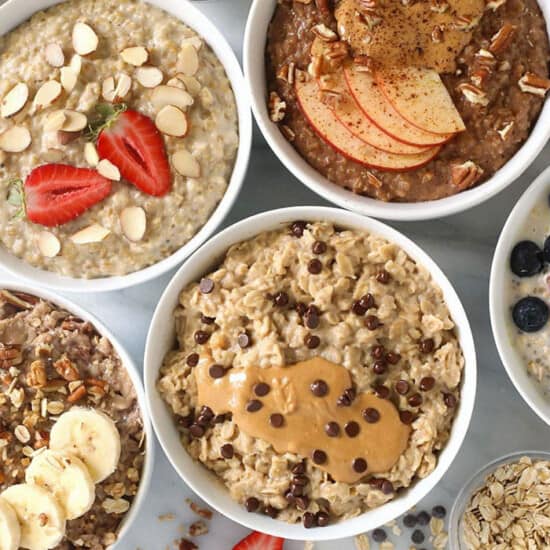 Subscribe
Join the Club!
Be the first to know about the recipe of the month + get other Fit Foodie Cooking Club announcements straight to your inbox!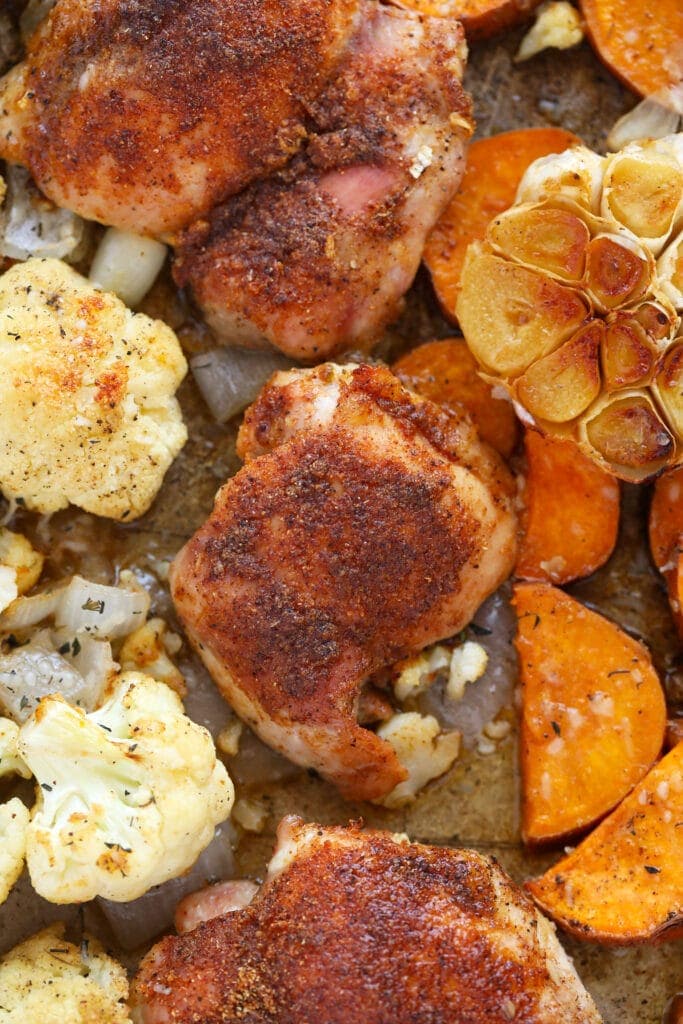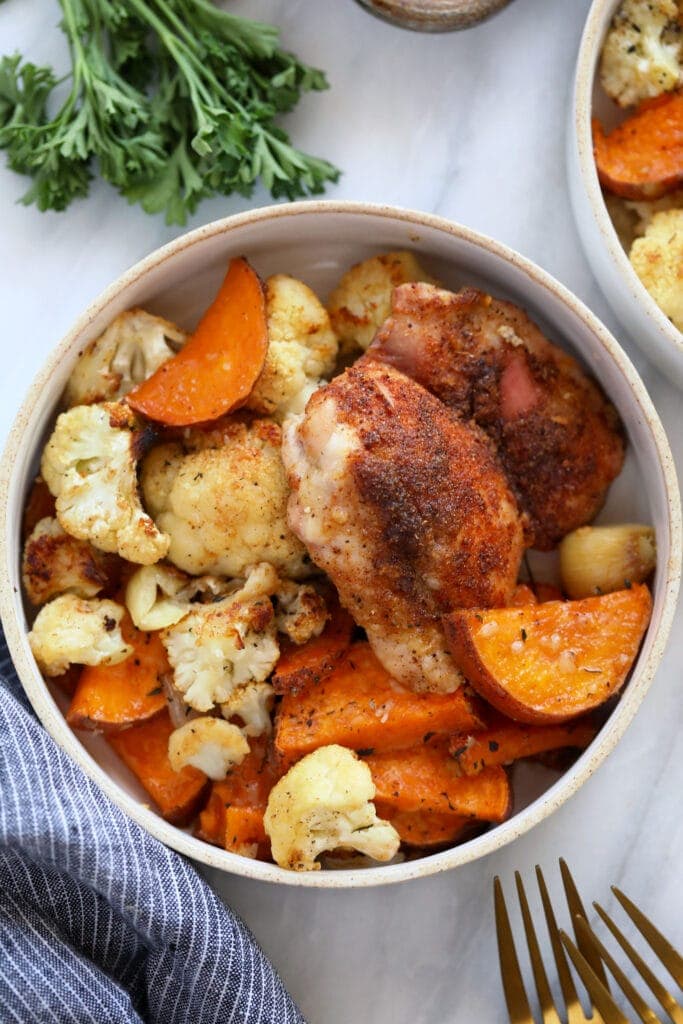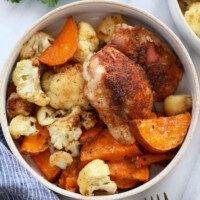 Sheet Pan Chicken and Veggies
Make this sheet pan chicken thigh recipe for dinner this week! You get your protein and your veggies on one tray and baked all together! 
Prep: 15 minutesCook: 35 minutesTotal: 50 minutes
Fat 28 Carbs 25 Protein 34
Yield 4 servings 1x
Ingredients
3 tablespoons

olive oil

1.5 tablespoon

maple syrup

1.5 teaspoons

minced garlic

1.5

-lbs. boneless skinless chicken thighs

1.5 tablespoons

chicken seasoning

1

large sweet potato, chopped into half moons that are about

1/4

-inch thick 

1

small head cauliflower, chopped

1/2

medium onion, chopped

1

head garlic, head sliced off

1/2 teaspoon

salt

1/4 teaspoon

ground pepper

1/2 teaspoon

garlic powder

2 tablespoons

grated parmesan

1 tablespoon

chopped fresh thyme
Instructions
Preheat oven to 400ºF. Then, spray a baking sheet with nonstick cooking spray.
Prepare an oil for the sheet pan meal by adding the olive oil, maple syrup, and minced garlic to a small bowl and mix. Set aside. 
Next, season the chicken thighs with the chicken seasoning. Be sure to cover the whole chicken thigh with seasoning. Place the chicken thighs in a line down the middle of the greased baking sheet. Let the chicken sit in the dry rub while the vegetables are being prepared. 
Sprinkle the cauliflower and onion on one side of the chicken thighs and the chopped sweet potato and garlic head on the other side of the chicken. 
Carefully drizzle the oil and maple mixture over the vegetables. Mix the vegetables so that they are all covered in oil. 
Lastly, sprinkle the salt, pepper, and garlic powder over the vegetables. 
Place the baking sheet in the oven and bake at 400ºF for 20 minutes. 
Remove the baking sheet from the oven and toss the vegetables. 
Place the baking sheet back in the oven and bake for an additional 15 minutes. Sprinkle parmesan over the vegetables and bake for 3 additional minutes or until the parmesan cheese is melted. 
Remove from the oven and enjoy. 
Nutrition Facts
Serving Size: 1/4 Calories: 467 Sugar: 9 Fat: 28 Carbohydrates: 25 Fiber: 4 Protein: 34
Author: Lee FunkeCategory: DinnerMethod: OvenCuisine: American
Photography: photos taken in this post are by Erin from The Wooden Skillet.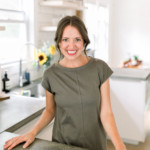 Linley is a 5′ nothing spitball of positive energy who joined Team Fit Foodie in the Spring of 2014. Linley has worked on the digital side of small businesses and nonprofits since 2011, where she specialized in social media community management. Lin has a passion for food and an incredible palate. She is FFF's chief recipe developer, so you can thank her for these incredible recipes!