This Shaved Brussels Sprout Salad is fresh, flavorful and tossed with a healthy balsamic vinaigrette dressing. From diced apples to dried apricots to candied almonds, and, of course, shaved brussels sprouts, this salad truly has it all!
Serve this delicious salad with this slow cooker pork roast, these grilled chicken legs or even this whole turkey!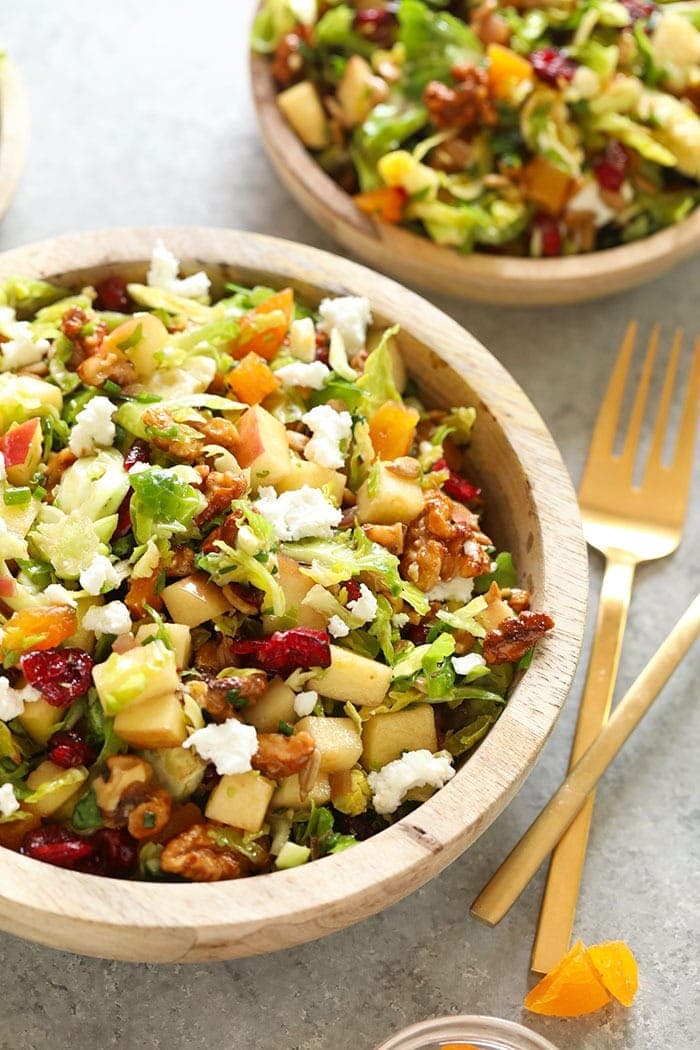 Loaded Salad Lovers!
Calling all loaded salad friends! This shaved brussels sprout salad recipe has your name on it. The perfectly sweet and nutty combination of these flavors together with the jazziness of shredded brussel sprouts (or do say shaved?! BIG debate over here at FFF) makes for the most delicious and nutritious shaved brussel sprout salad your cute little taste buds have ever experienced. Lez get into it, shall we?!
Brussel Sprout Salad Ingredients
What a tall list of healthy, delicious and easy to prepare ingredients we have here:
Veggies & Fruits
Shaved Brussels Sprouts: (obviously). We bought an already shredded bag of brussels sprouts at Trader Joe's. Most major grocers will have an already shredded option for you!
But, if you prefer to shred your own, simply trim the bottoms off fresh brussels sprouts and coarsely chop using the slicing attachment in your food processor. If you don't have a food processor, you can shred your brussels by hand by thinly slicing each brussel vertically.
Apple: feel free to use any apple you have on hand. We used a honey crisp apple for this recipe, and it gave the salad a nice sweet tang.
Dried Apricots: in this recipe, we cut our dried apricots into fourths to spread that apricot-y deliciousness throughout the salad.
Dried Cranberries: feel free to sub raisins if you prefer that flavor over craisins!
Nuts & Seeds
Sunflower Seeds: we recommend the already shelled sunflower seeds to avoid the oh so tedious work of shelling your own.
Candied Walnuts: we love to make our own candied nuts in the oven. For these perfectly candied walnuts, you'll simply toss 1 cup of raw walnuts with a tablespoon of maple syrup and a pinch of sea salt and then spread on a baking sheet.
Bake these at 400 for 10 minutes (stirring half way through), which should be just about the perfect amount of time to prepare the remaining ingredients for this brussel sprout salad recipe.
Dressing & Finishing Cheese
Homemade Balsamic Vinaigrette Dressing: we have a great recipe for this on FFF,  but if you're in a pinch, feel free to use any store-bought balsamic vinaigrette dressing instead.
Crumbled Goat Cheese: we love how the goat cheese crumbles pull the flavors together in this recipe, but if dairy ain't your thing, feel free to omit!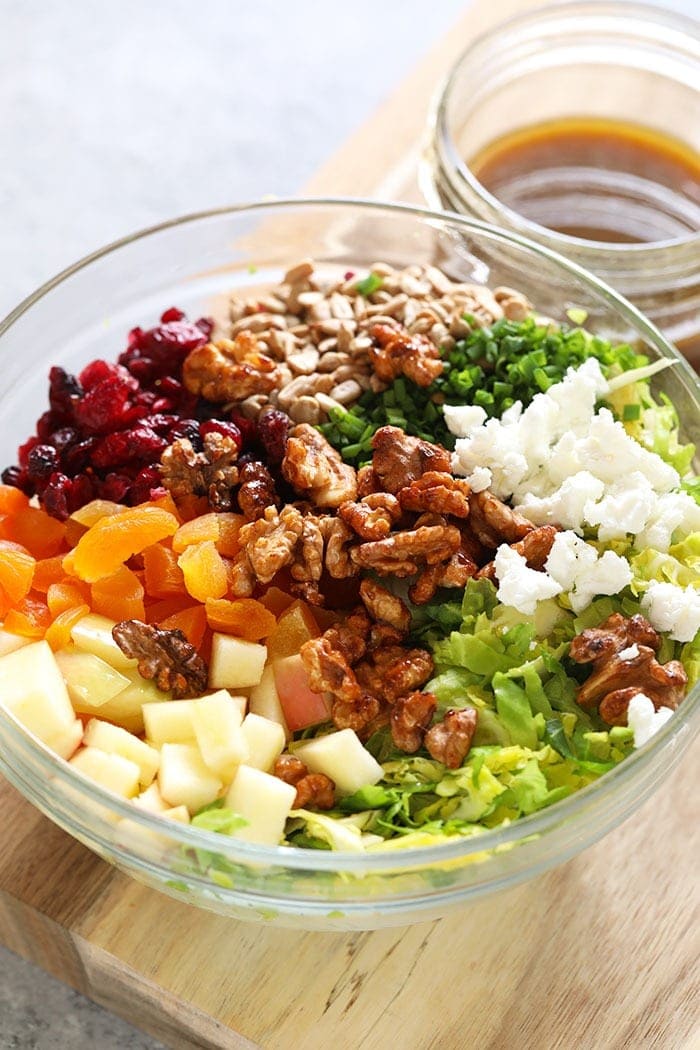 How Many Does This Salad Serve?
This brussels sprouts salad feeds 6 when served as a side. If you're looking to enjoy this salad as a main dish, it will serve 2-3. ENJOY, friends!
How to Store Brussels Sprouts Salad
Store this brussels sprouts salad in an air-tight container in the fridge for up to 2-3 days! Because this salad keeps well, it makes it great for meal prep throughout the week.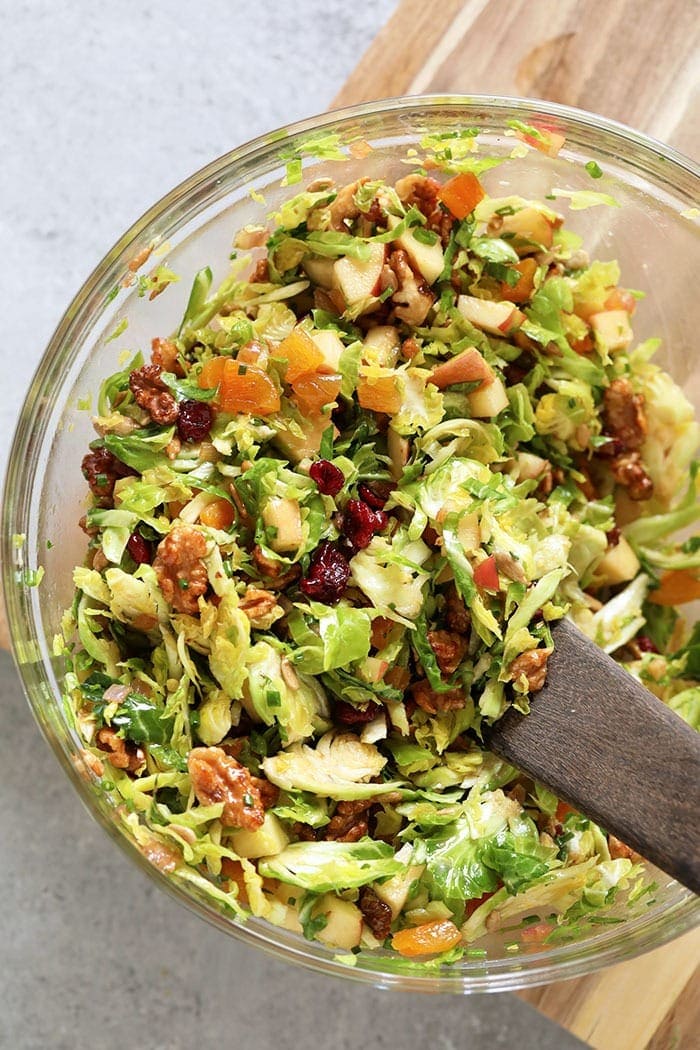 More Brussels Sprouts Recipes
And now that we've got the attention of all you brussels sprout lovers out there, take a gander at our wide selection of brussels sprout recipes here on Fit Foodie Finds. From fresh to grilled roasted, get your brussels sprout fix right here: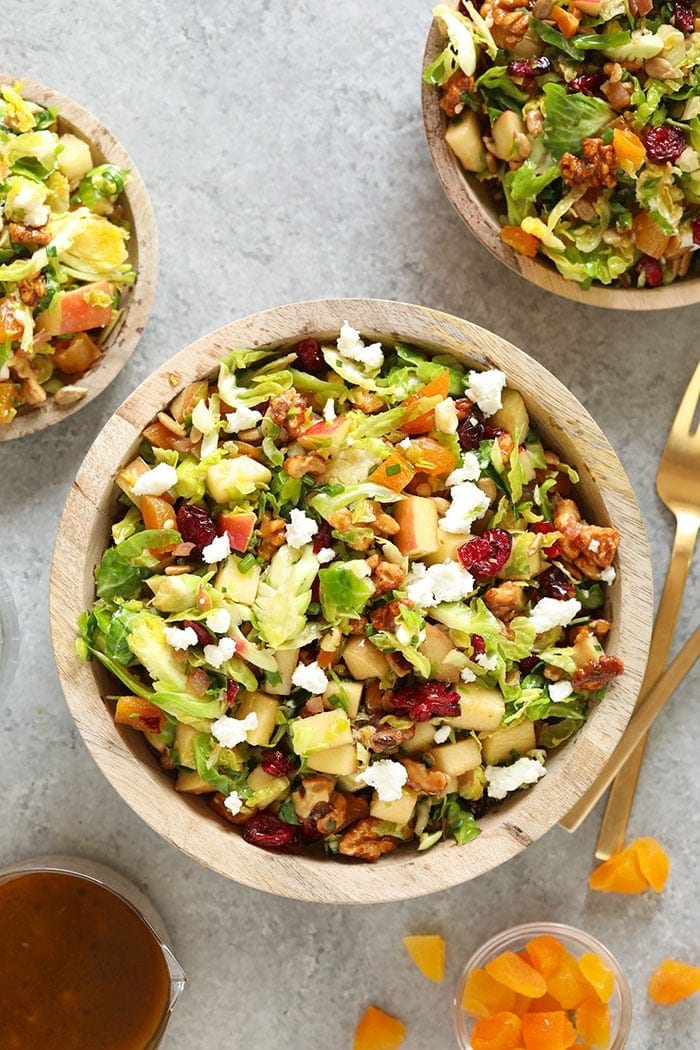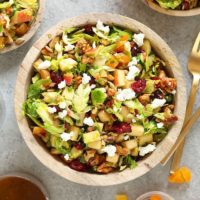 Shaved Brussels Sprout Salad
This Shaved Brussels Sprout Salad is fresh, flavorful and tossed with a healthy balsamic vinaigrette dressing. From diced apples to dried apricots to candied almonds, and, of course, shaved brussels sprouts, this salad truly has it all!
Prep: 10 minutesCook: 10 minutesTotal: 20 minutes
Fat 18 Carbs 29 Protein 8
Yield 6 servings 1x
Ingredients
Candied Walnuts
1 cup

raw walnuts

1 tablespoon

maple syrup
pinch of salt
Shaved Brussels Sprout Salad
1/2

lb. shaved Brussels sprouts

1 teaspoon

olive oil
pinch of salt

1/2 cup

dried apricots, minced

1/2 cup

dried cranberries

1

medium apple, chopped

1/4 cup

sunflower seeds

3 tablespoons

minced chives

3 tablespoon

homemade balsamic vinaigrette dressing

2 ounces

crumbled goat cheese
Instructions
Preheat the oven to 400ºF.
Spread walnuts over a baking sheet and drizzle with maple syrup and salt. Stir and make sure all walnuts are covered in maple syrup.
Let cook for 10 minutes (stirring halfway) and remove from the oven and let them cool.
While walnuts are baking, placed shaved Brussels into a large mixing bowl and drizzle with olive oil and salt. Massage with your hands for 2-3 minutes.
Next, place walnuts and the rest of the salad ingredients into the bowl with the brussels sprouts and mix well. Make sure all vegetables are covered in the salad dressing.
Store in the refrigerator and let chill in the fridge for at least 30 minutes. Enjoy!
Nutrition Facts
Serving Size: 1/6 recipe Calories: 296 Sugar: 20 Sodium: 148 Fat: 18 Carbohydrates: 29 Fiber: 6 Protein: 8
Author: Lee HershCategory: SaladsMethod: No BakeCuisine: American
Keywords: brussels sprout salad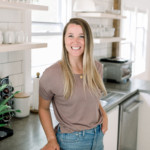 Emily spent the first 10 years of her career in marketing and advertising roles and started side-hustling with Fit Foodie Finds in Fall of 2015. She joined Team Fit Foodie full-time in the Spring of 2018. Em lives in Minneapolis with her husband and dog, and manages FFF business operations as well as all things sponsorships and brand collaborations.