This pesto pasta is made with salty parmesan, homemade pesto, and delicious sautéd vegetables making this an amazing and flavorful pesto pasta dish!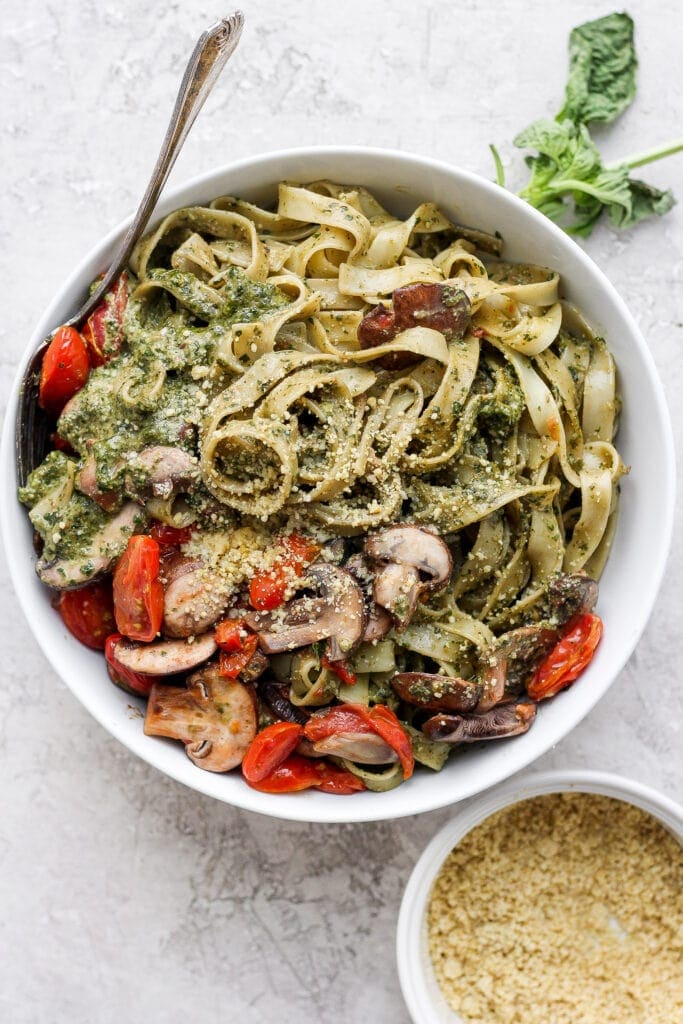 Delicious Pesto Pasta
Now that you know how to make homemade pesto we thought we'd teach you how to make this super flavorful Pesto Pasta!
There is nothing better than a delicious bowl of pesto pasta tossed with tasty sautéd vegetables!
why we love this pesto pasta
This pesto pasta can be ready in under 1 hour.
You can make this pesto pasta VEGAN by replacing the pesto with vegan pesto and vegan parmesan! The saltiness and deliciousness is still there!
You can store the veggies, pesto, and parmesan in the refrigerator for the week. You just have to whip up pasta and toss everything together when you're ready to eat it.
Ingredients You Need for Pesto Pasta
Fresh basil- traditional pesto is made with fresh basil and we stuck to tradition for this pesto! Get the freshest basil you can find! No, you can not used dried basil.
Parmesan – do not skip the parmesan in this pesto! It adds the salty and nuttiness that makes the pesto so delicious.
Fresh lemon juice- brighten up your vegan pesto with fresh lemon juice.
Garlic cloves- you can't have any pesto (vegan or not) without garlic.
Pine nuts- to thicken up your pesto we recommend sticking to the traditional pine nut. It adds the best nutty flavor to every pesto.
Olive oil- you can use olive oil to thin out your pesto and add amazing flavor!
Pappardelle pasta- we chose a simple pappardelle pasta for this dish!
Bella mushrooms + cherry tomatoes- these delicious pesto does most the flavor work in this pasta dish, but the mushrooms and tomatoes add earthiness and a good serving of vegetables.
Salt- we suggest waiting to add salt to this pasta until the end because the pesto and parmesan are both salty and delicious.
Tools You Need
Here are a few tools that may be helpful when making this pesto pasta recipe!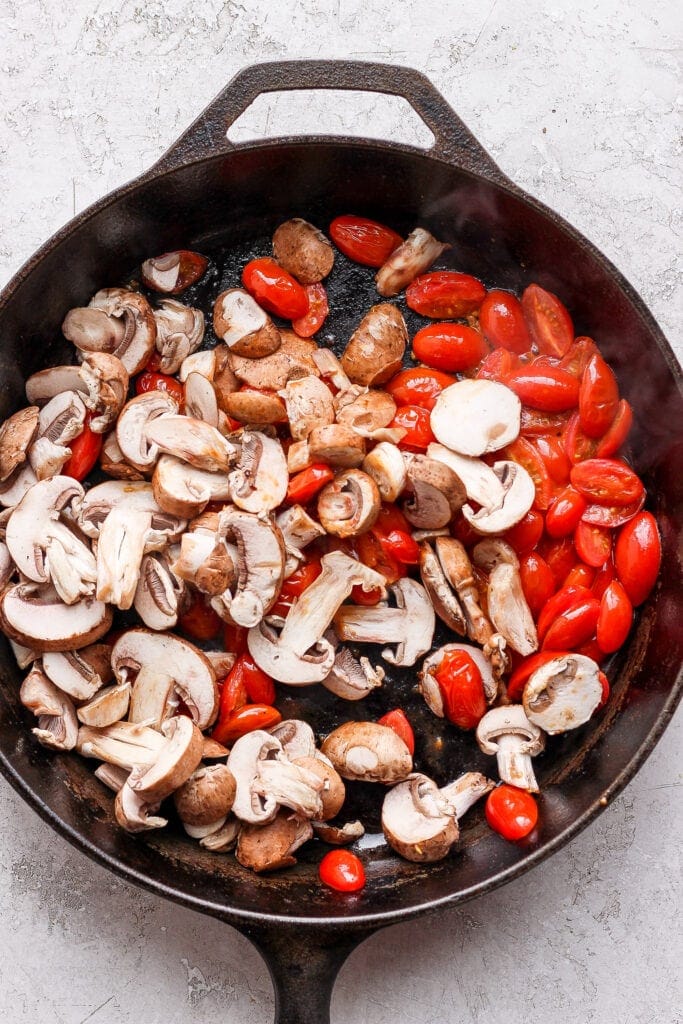 How to Make Pesto Pasta
Make the pesto. Toss all the ingredients for the homemade pesto into a food processor and blend until it reaches your desired consistency.
Cook the pasta. Bring a large pot of water to a boil and cook until it reaches al dente. Set 1/2 cup of pasta water to thicken the pasta for later.
Sauté the vegetables. Heat a large pan or cast iron skillet and add olive oil. When the olive oil is fragrant sauté the vegetables until they are cooked and delicious.
Toss everything together. Once the vegetables are ready add the pesto, 2 tablespoons of pasta water, and pasta to the pan and toss everything together. Sprinkle with more parmesan and enjoy!
MAke it creamy pesto pasta
If you want to make this pesto pasta creamy add 2 tablespoons of heavy cream to the pan when you add the pesto! Combine all the ingredients together and toss with the pasta!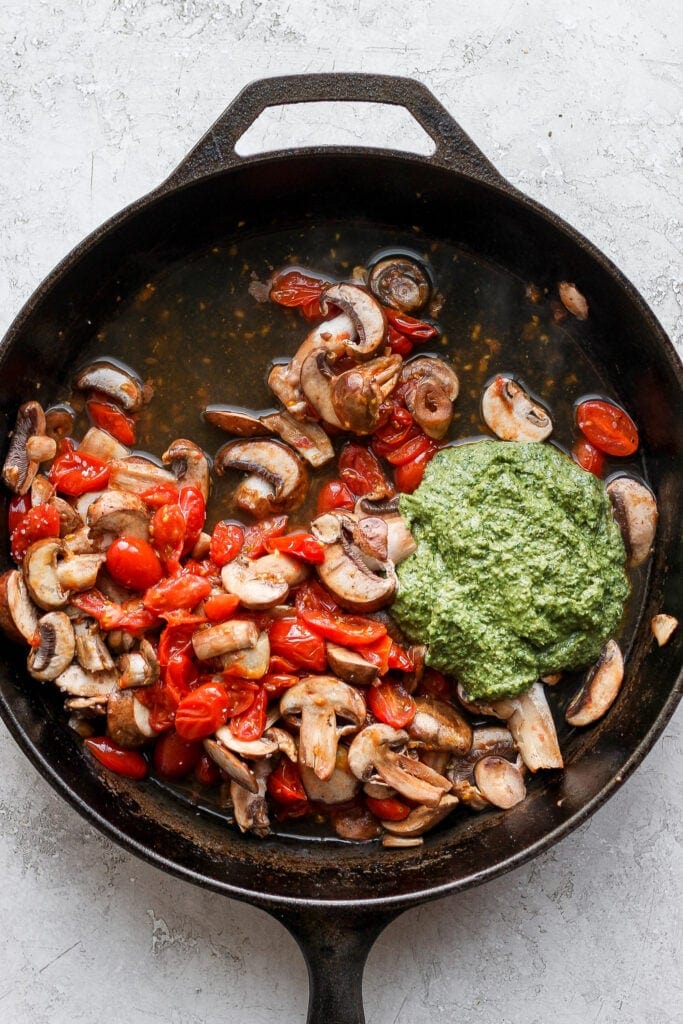 What Kind of Pasta Should I Use?
Though we used pappardelle pasta for this pesto pasta, you can use any pasta that you'd like to use! We recommend just going with what you love. Any of the pastas below will do.
rigatoni
penne
orecchiette
fusilli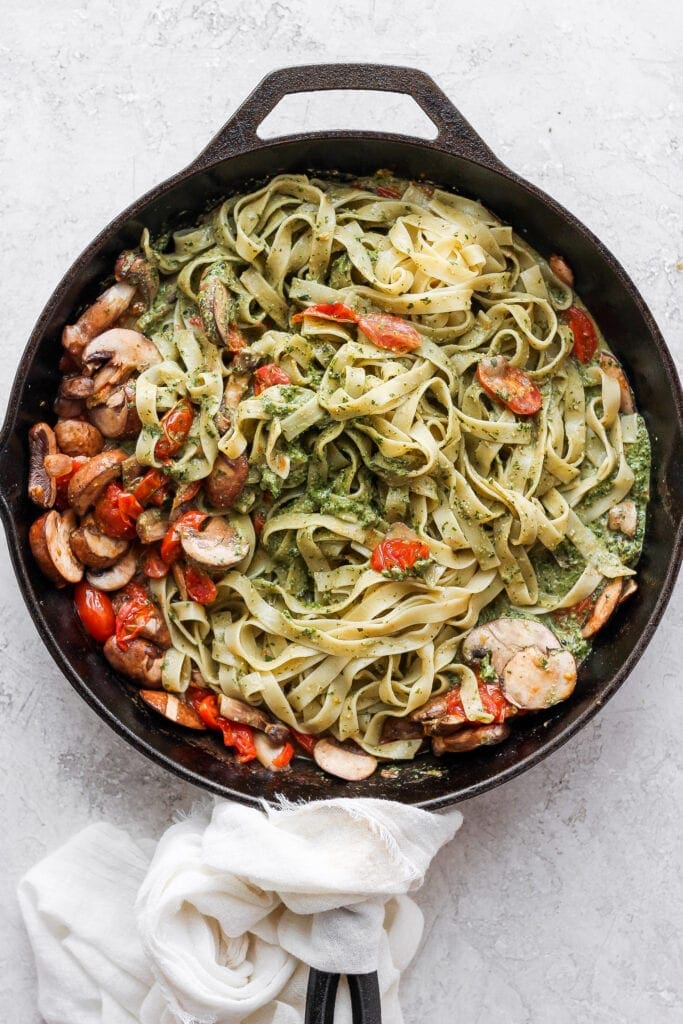 A Few More Things
What else can I add to this pasta?
The sky is the limit when it comes to adding other ingredients to this pasta. You can mix up the vegetables, add some spice, or anything else you're craving.
white onion
bell pepper
shallot
fresh mint
fresh arugula
red pepper flakes
How do I store pesto pasta?
Store your pesto pasta in an airtight container for up to 5 days! Reheat the pasta over low heat.
What to serve with pesto pasta
Serve this pasta with one of the delicious salads below!
Spring Mix Salad- This spring mix salad is made with a combination of fruit, vegetables, cheese, and sesame roasted cashews. It is topped with a simple dressing and you can serve it with your favorite lunch or dinner recipes.
Butter Lettuce Salad- This butter lettuce salad has a combination of vegetables, fruit, nuts, cheese, and is drizzled with a simple lemon vinaigrette. Everything on a bed of tender butter lettuce makes a perfect and delicious salad.
The Best Arugula Salad- This is a simple and delicious arugula salad recipe. It is made with arugula, dried fruit, veggies, and fruit. It is the perfect side dish to any meal!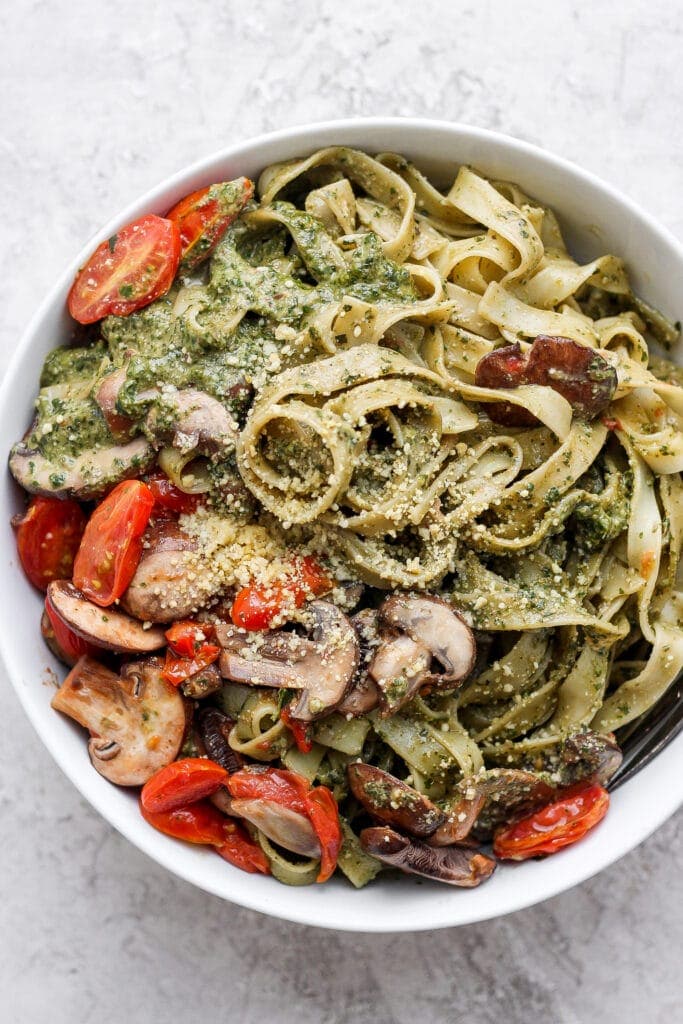 Pesto Pasta
Grab your favorite pasta and toss it with our homemade pesto and salty parmesan. It is ready in under an hour and so delicious. 
Prep: 20 minutesCook: 15 minutesTotal: 35 minutes
Fat 40 Carbs 39 Protein 13
Yield 4 1x
Ingredients
Homemade Pesto
2 cups

fresh basil leaves, packed

1/2 cup

shredded parmesan (or this vegan parmesan)

2 tablespoon

fresh lemon juice

2

medium clove garlic

1/4 cup

pine nuts

6 tablespoons

olive oil
Pesto Pasta
8

-oz. pappardelle pasta

8

–

0

z. Bella mushrooms, sliced

2 tablespoons

olive oil

1/2 teaspoon

salt, separated

10

-oz. cherry tomatoes, halved

2/3 cup

pesto (or vegan pesto)

2 tablespoons

pasta water
grated parmesan, for topping
Instructions
First, follow the directions in our homemade pesto post to make the pesto. Note that this recipe calls for 2x the pesto in that post so that it yields around 2/3 cup. Set aside.

Next, bring a large pot of salted water to a boil and add the pasta to the pot. Stir periodically so the pasta does not stick together. 

Meanwhile, heat a large skillet pan over medium/high heat. Add olive oil. 

When olive is fragrant add the cherry tomatoes to the skillet and sprinkle them with ¼ teaspoon of salt. Toss the tomatoes in the olive oil and let them cook for 2-4 minutes or until excess tomato water has evaporated.

Add mushrooms to the skillet and sauté for 5-6 minutes or until brown.  

Set aside ¼ cup of pasta water before straining the water from the pasta when the pasta is cooked to al dente. Set pasta aside.

Next, add the pesto and 2 tablespoons of the pasta water to the skillet with the tomatoes and stir until all the ingredients are combined. 

Heat the pesto until it is just before boiling. If you would like a saucier pasta, add an additional 2 tablespoons of pasta water to the pan. 

Add pasta to the skillet and toss the pasta with the pesto and tomatoes. Sprinkle with the remaining ¼ teaspoon of salt. 

Serve with grated parmesan cheese and enjoy.
Nutrition Facts
Serving Size: 1/6 Calories: 547 Sugar: 3 Sodium: 292 Fat: 40 Carbohydrates: 39 Fiber: 4 Protein: 13
Author: Linley RichterCategory: PastaMethod: Stove TopCuisine: Italian
Keywords: Vegan Pesto Pasta
Photography: photos taken in this post are by Erin from The Wooden Skillet.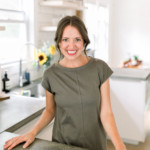 Linley is a 5′ nothing spitball of positive energy who joined Team Fit Foodie in the Spring of 2014. Linley has worked on the digital side of small businesses and nonprofits since 2011, where she specialized in social media community management. Lin has a passion for food and an incredible palate. She is FFF's chief recipe developer, so you can thank her for these incredible recipes!