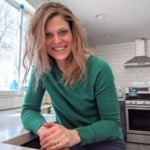 By: Ana Ankeny Posted: 12/13/21
When you've got that craving for pancakes, these Banana Oatmeal Pancakes are just the answer. They're an easy and delicious way to get the day going! Made with oats and bananas, these gluten-free pancakes are a healthy breakfast that is stacked tall with nutrition and flavor!
Banana Oatmeal Pancakes
Weekend mornings were made for pancakes – a tall stack of pancakes, that is! Here, we've added ground oats and mashed banana to the batter for extra flavor and a nutrition boost. Add a few extra slices of banana and a sprinkle of cinnamon, and you'll have yourself a scrumptious and absolutely delicious breakfast. Whether it's a weekend or a weekday, for kids or adults, this Banana Oatmeal Pancake recipe is one that's hard to resist!
Ingredients for Banana Oat Pancakes
With a few simple ingredients, these banana oat pancakes come together to make a delicious and fluffy round pancake that's perfect to serve for brunch, weekend mornings, and even made ahead for an easy weekend breakfast meal prep.
Eggs – you'll need 2 whole eggs. Learn more about choosing quality eggs here
Milk – use dairy or unsweetened non-dairy milk of choice
Banana – you'll need 1 large or 2-3 small to medium bananas; for the best sweet flavor and easy mashing, use ripe bananas that have darker spots on the peel
Avocado oil – can substitute melted butter or coconut oil
White vinegar – this helps the gluten-free pancake get a little more height and bake to golden perfection
Oats – pulse old-fashioned rolled oats in a blender or food processor to make oat flour (it should look like a coarse flour with some larger oat pieces still in it for a thicker texture pancake). Alternatively, you can use quick-cooking oats – still pulse them in the blender, but for less time
Gluten-free flour blend – we recommend using Bob's Red Mill One-to-One Gluten-Free Baking Flour or King Arthur Measure-for-Measure Gluten-Free Flour. You can also use an equal amount of unbleached all-purpose flour if you don't need or want pancakes that are gluten free
Baking powder
Baking soda
How to Make these perfect banana oatmeal pancakes
It takes just 3 easy steps to make this banana oatmeal pancake batter and cook them into hot and ready banana flapjacks!
Step 1: Pulse the oats in a blender or food processor until broken into small pieces (see photo above for texture).
Step 2: In a mixing bowl, whisk together the eggs, milk, avocado oil, and white vinegar. Add the pulsed oat flour, gluten-free flour, baking powder, and baking soda; stir together. Add the mashed banana and stir well.
Step 3: Place a small skillet over medium heat or heat a griddle to medium. Mist with nonstick cooking spray or coat with a small amount of avocado oil. When the skillet or griddle is hot, add small scoops (2-3 tablespoons each) of pancake batter in rounds. Cook about 2 minutes (or until lightly golden brown on the bottom and small bubbles form on top). Flip the pancakes and cook for 1 – 1 ½ minutes on the other side. Remove from the skillet, place on a plate. Repeat the process until all of the pancake batter is used.
How to serve banana pancakes
Pancakes and waffles are one of our favorite breakfasts to serve and enjoy! Just as with our Fluffy Sweet Potato Pancakes and our Gluten-Free Peanut Butter Banana Waffles we think a little pad of butter and a drizzle of pure maple syrup makes the perfect topper. But there are many ways to fancy up these hot cakes.
Topping Ideas for Gluten-Free Banana Pancakes:
Try serving these banana pancakes with a variety of toppers for extra flavor plus more nutrition (such as added protein from the yogurt or scrambled eggs). Try:
Banana slices
Chopped walnuts
Cinnamon
Pure maple syrup
Fresh berries
Yogurt
Scrambled eggs served on the side
Are Banana Oatmeal Pancakes a healthy option for breakfast?
Here at The Real Food Dietitians we love to start the day with a nutritious breakfast, and these Banana Oatmeal Pancakes are a favorite because our families love them and they're packed with nutrition.
Oats – an excellent source of a special type of fiber called beta-glucan, oats have been linked to lowering cholesterol and good blood sugar control
Bananas – known for being a great source of potassium (important for heart-health), bananas also provide a good amount of fiber and antioxidants
Eggs – a nutritious package, whole eggs contain important nutrients, such as vitamin D, choline, and leucine that you don't find in high quantities in many other everyday foods. These nutrients help support cell and muscle growth, as well as keeping your skin and brain nourished
Tip!
Try These Two Ways to Add The Bananas
For added texture and more banana flavor, slice the bananas into rounds and add to the batter. For a smoother and more evenly distributed banana flavor, mash the bananas before folding them into the batter.
How to store banana pancakes
Once the pancakes are cooled, place them in a covered container and keep in the fridge for up to 5 days. To reheat, place in the microwave for 20 seconds at a time until heated through (resulting in a soft pancake) or pop in the toaster (for a more crisp pancake).
Can these oatmeal pancakes be frozen?
Absolutely! When we're organized and planning ahead, we love to make a batch or two of these banana oatmeal pancakes as part of our meal prep, then stash in the freezer until needed. Freeze cooked and cooled pancakes in a freezer-friendly container or bag for up to 3 months.
Can I meal prep these banana oat pancakes?
We are encouragers of meal prepping so naturally we have created this recipe to be meal prep friendly! There are two ways to meal prep these pancakes.
Option 1: Make the Batter Ahead. Mix together the batter per the instructions and store the uncooked batter in a glass container with a lid in the fridge for up to 3 days. Cook the pancakes on demand from the pre-made batter.
Option 2: Fully Cook the Pancakes Ahead. Cook the pancakes per the instructions, let cool, place in containers and store in the fridge for easy breakfasts. (See above for storing instructions and re-heating instructions)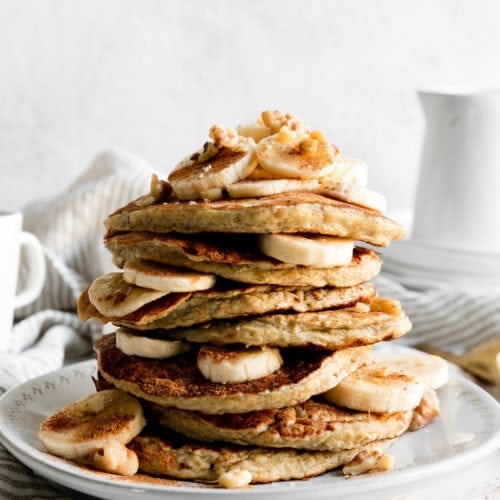 Recipe
Banana Oatmeal Pancakes
Start your day right with these easy and delicious gluten-free Banana Oatmeal Pancakes that are calling your name! Here's a healthy breakfast that's both kid-friendly and adult-friendly, made with simple ingredients.
Prep: 15 minsCook: 20 minsTotal: 35 minutes
Servings: 4 servings (12 pancakes) 1x
Ingredients
1 cup

old-fashioned rolled oats 

2

eggs

1 cup

dairy or non-dairy milk of choice

2 tablespoons

avocado oil (or melted butter or coconut oil)

2 teaspoons

white vinegar

½ cup

gluten-free flour blend*

½ teaspoon

baking powder

½ teaspoon

baking soda

1 cup

mashed banana (1 large or

2

small-medium)**
Optional toppers: Ground cinnamon, maple syrup, additional sliced banana, chopped nuts, yogurt, berries
Instructions
In a blender or food processor, pulse the oats into a flour. It should be mostly ground with some larger pieces of oats still intact. 

In a bowl, whisk together the eggs, milk, oil, and vinegar.

To the egg mixture, add the oat flour, gluten-free flour, baking powder, and baking soda; mix to combine. Fold in

the mashed banana.

Place a small skillet over medium-high heat or heat a griddle to medium-high. Mist the cooking surface with nonstick cooking spray or coat with a small amount of oil. 

Once the skillet or griddle is hot, add batter (2-3 tablespoons each) in circular mounds. Cook until lightly golden brown on the bottom and small bubbles form at the top of the batter, about 2 minutes. Flip each pancake and cook until golden brown on the other side, 1 to 1 ½ minutes more. Remove pancakes to a plate and keep warm while you cook the rest of the batter. 
Last Step! Please leave a review and rating letting us know how you liked this recipe! This helps our business thrive so we can continue providing free recipes and high-quality content for you.
Nutrition Information
Serving Size:

3 pancakes

Calories:

325

Fat:

11 g

(Sat Fat:

2 g

)
Sodium:

370 mg

Carbohydrate:

45 g

(Fiber:

5 g

Sugar:

10 g

)
Protein:

9 g

Cholesterol:

75 mg
Dietary
© The Real Food Dietitians
Pin It now to make It later
Photo Credit: The photos in this blog post were taken by Rachel of Half Acre House.
For ultimate success, we highly recommend reading the tips in the full blog post above. All photos and content are copyright protected. Please do not use our photos without prior written permission. If you wish to republish this recipe, please rewrite the recipe in your own unique words and link back to the source recipe here on The Real Food Dietitians. Thank you!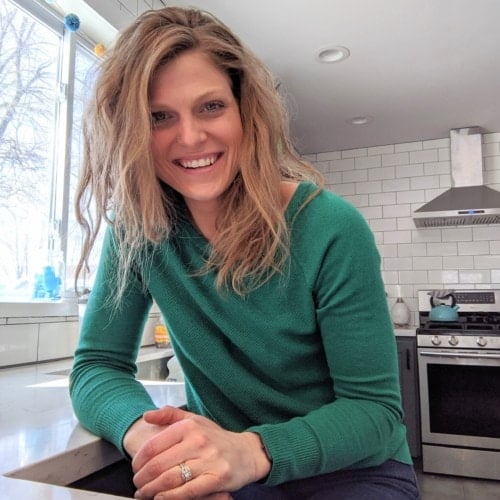 Ana Ankeny
Ana is a recipe developer, fellow food blogger, and Pinterest manager. She lived in Blue Earth, MN with her husband and four boys. She's on a mission to turn highly-processed meals into real-food meals…one dish at a time! She loves spending time with her family, powerlifting, traveling, and being in the kitchen.
Reader Interactions