Make a restaurant-quality chicken Caesar salad with a homemade caesar salad dressing in less than 30 minutes!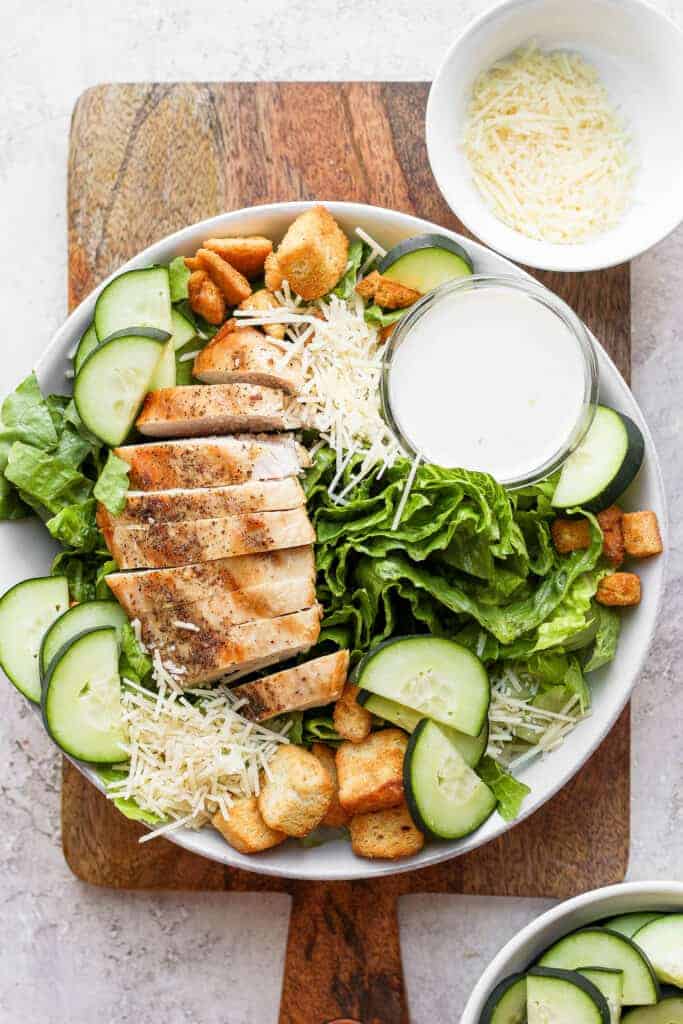 If there's chicken Caesar salad on the menu, I almost always order it! It's filling, crunchy, and I'm a huge fan of Caesar salad dressing.
Why make chicken Caesar salad?
Our chicken Caesar salad is so easy to make and requires just a few ingredients. I love that you can really use any cooking method for the chicken and our homemade Caesar dressing is absolutely delicious.
We also made a few non-traditional swaps such as using Greek yogurt and mayo in place of egg yolks and we even added in another vegetable!
What is in chicken Caesar salad?
Classic chicken Caesar salad is typically made with romaine lettuce, cooked sliced chicken, parmesan cheese, and croutons. It's then topped with Caesar salad dressing which is traditionally made with olive oil, anchovy, garlic, dijon, and raw egg yolks.
In our chicken Caesar salad recipe, you will see notes from the traditional salad, but also simple swaps to make it an even easier and more accessible salad.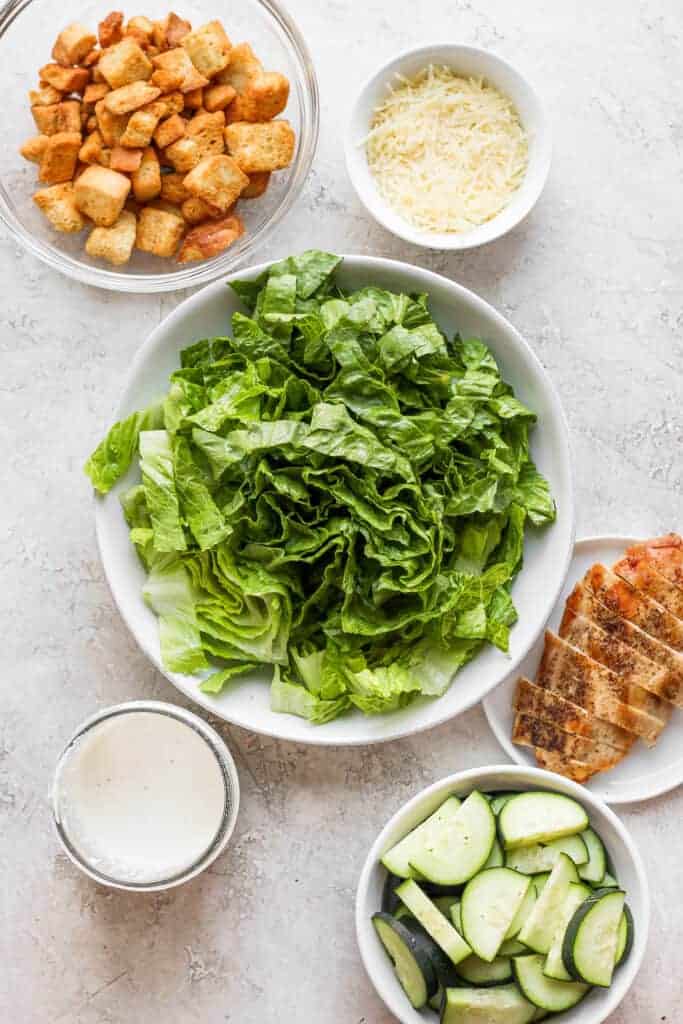 What You Need
Romaine lettuce: romaine is the base of this salad. We love how crunchy an crispy this lettuce is.
Cooked chicken: you are more than welcome to use any kind of cooked chicken. Our pan-seared chicken breast is basic and a great option for this chicken caesar salad recipe.
Croutons: don't skip the croutons! They are essential for crunch and texture. You can use a store-bought garlic crouton or make your own at home.
Parmesan cheese: you really can't have enough parmesan cheese. Especially in a chicken caesar.
Cucumber: we wanted to add another veggie into this salad and while cucumber isn't part of the classic chicken caesar salad recipe, it's surely a nice addition.
Caesar salad dressing: we suggest making homemade Caesar dressing, but you can also use store-bought. Check out our homemade variation below!
Best Caesar Salad Dressing
Our homemade Caesar salad dressing is seriously so good. It's creamy, tangy, and so easy to make in your own home. The only thing we really did differently than classic caesar dressing is we swapped the raw egg yolk for mayonnaise and use some Greek yogurt. Here's what you need to make our homemade Caesar dressing:
plain Greek yogurt
mayonnaise
finely grated parmesan
anchovy paste
fresh lemon juice
lemon zest
olive oil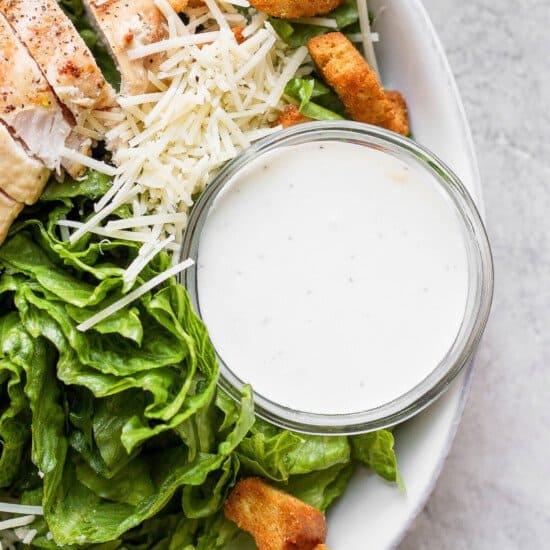 Make it!
Homemade Caesar Dressing
Make this simple homemade Caesar salad dressing recipe. It's made without eggs and has a base of Greek yogurt and mayo, making it extra creamy!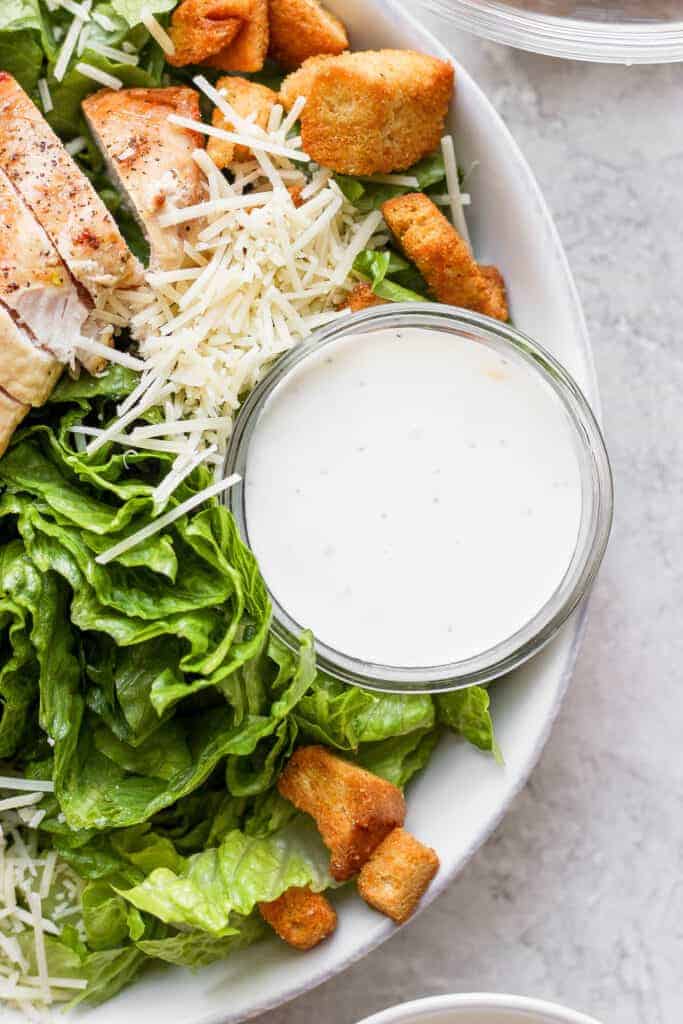 How to Make Chicken Caesar Salad
Make Dressing: first, combine all ingredients for the dressing in a medium bowl or jar. Mix to combine and set aside.
Cook Chicken: use any cooking method to cook 1-1.5 lbs. chicken breast. We reccomend our pan seared chicken breast recipe.
Assemble Salad: assemble your salad by placing all ingredients into a large bowl.
Dress Salad: toss salad in dressing and serve.
Easy Ways to Cook Chicken
Stovetop Chicken: Sear chicken breast in butter or olive oil over medium/high heat for around 10 minutes, flipping halfway or until the chicken breasts reach an internal temperature of 165ºF. Check out our Pan Seared Chicken Breast recipe for more details
Grilled Chicken: Grill chicken breasts for 15-18 minutes at 400ºF, flipping halfway. Make sure your chicken breast reaches at least 165ºF internally. Check out our Grilled Chicken Breast recipe for more details.
Oven-Baked Chicken: Bake chicken breasts at 375ºF for 20-25 minutes or until the internal temperature reaches 165ºF. Check out our Baked Chicken Breast recipe for more details.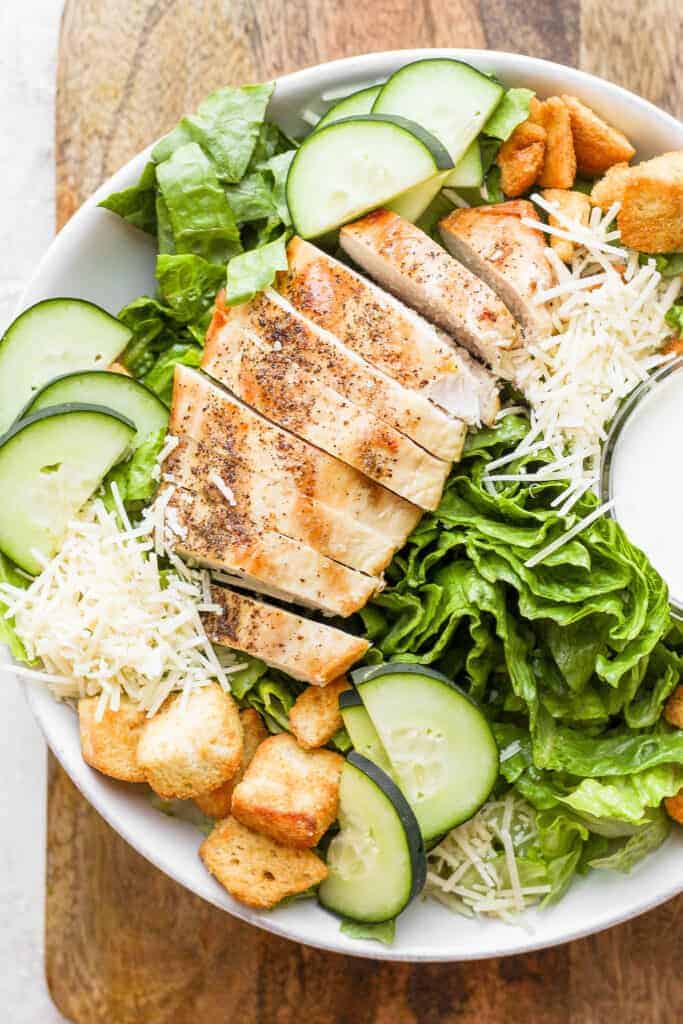 Variations
Use a different protein: Have fun with this salad recipe and use a different protein! Try one of the following for starters:
Add more veggies: Why skimp on the veggies when you can truly pack them in? Add whatever you have in the fridge such as bell pepper, broccoli, cauliflower, or celery.
Go vegetarian: Hoping to keep this vegetarian? Simply remove the chicken breast and anchovy paste.
Serving Suggestions
Chicken caesar salad makes for an excellent main dish, but also as a starter or side. Here are some of our favorite mains that pair perfectly with this recipe.
Mama's Meatballs and Spaghetti: Italian meatballs and pasta is a crowd-pleasing, kid-friendly dinner idea. This truly is the best meatball recipe and it's simply made with ground beef, breadcrumbs, parmesan, and your favorite marinara!
Crockpot Lasagna: Make tonight Italian night with this amazing crockpot lasagna! This lasagna is made with a flavorful meat sauce, a delicious cheese mixture, and is super easy to make. Make it for the family tonight or meal prep it for the week!
Kale Lasagna Roll-Ups: These Kale Lasagna Roll-Ups are a delicious vegetarian alternative to a traditional lasagna. Perfect for serving a large group or meal prepping ahead of time to feed the family.
Caprese Chicken Pasta: Healthy pasta lovers, this one's for you! A Caprese Chicken Pasta that packs 51g of protein per serving and all those delicious Caprese flavors you love. Plus, it's perfect for meal prep!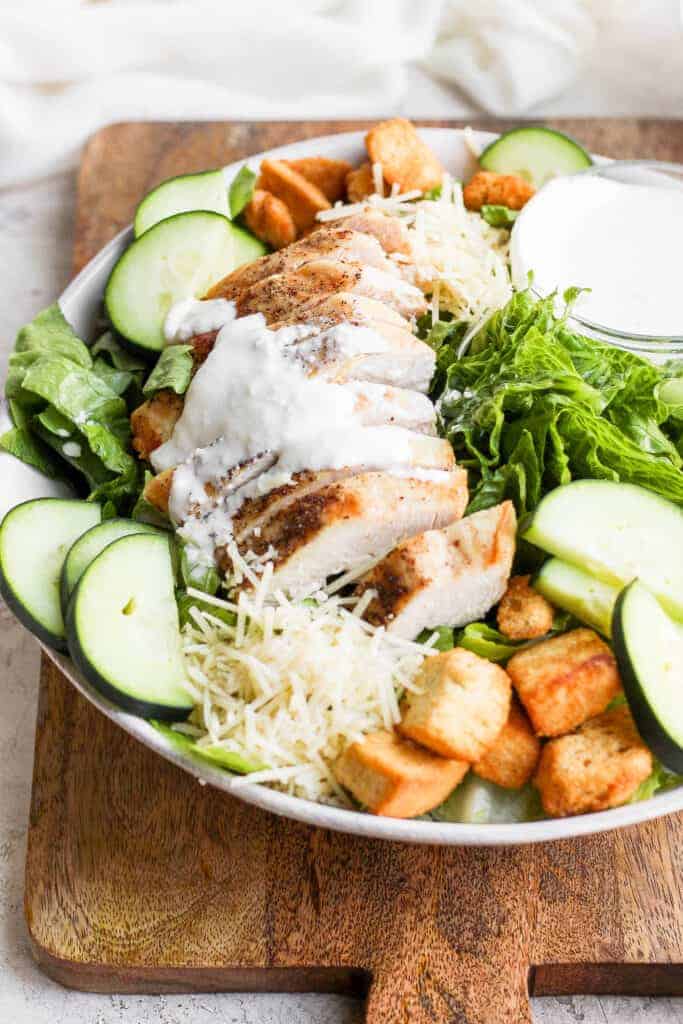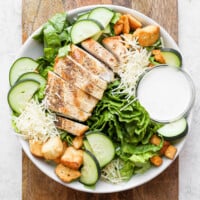 Chicken Ceasar Salad
This easy at-home chicken caesar salad recipe is made with sliced chicken, parmesan cheese, croutons, and a hoemmade creamy Caesar dressing,
Prep: 15 minutesCook: 15 minutesTotal: 30 minutes
Fat 20 Carbs 29 Protein 52
Yield 6 1x
Ingredients
Caesar Salad Dressing
1/2 cup

plain Greek yogurt

1/4 cup

mayonnaise

1/3 cup

finely grated parmesan

1.5 teaspoons

anchovy paste

2 tablespoons

fresh lemon juice

1 teaspoon

lemon zest

2 tablespoons

olive oil

1/4 teaspoon

salt

1/4 teaspoon

pepper
Chicken Caesar Salad
8

–

10

cups chopped romaine lettuce

2 cups

croutons (any kind)

½ cup

shredded parmesan cheese

2 cups

sliced cucumber, sliced into half-moons

1

–

1.5

-lbs. cooked chicken breast, sliced or diced

½ cup

caesar dressing 
Instructions
Caesar Salad Dressing
To learn how to make our Caesar salad dressing, check out the post HERE.
Chicken Caesar Salad
Place romaine lettuce, croutons, parmesan cheese, and sliced cucumber to a large salad bowl and toss ingredients together. 

Top the salad with chicken breast and drizzle with dressing. 

Toss the salad again and serve. 
Nutrition Facts
Serving Size: 1/6 Calories: 492 Sugar: 2 Fat: 20 Carbohydrates: 29 Fiber: 3 Protein: 52
Author: Lee FunkeCategory: SaladMethod: Stove-TopCuisine: Italian
Keywords: chicken caesar salad, caesar salad
Photography: photos taken in this post are by Erin from The Wooden Skillet.