If you're looking for a side dish to make an ordinary meal a little extraordinary with a nutrient-dense choice, we highly recommend adding soft, fluffy, and perfectly Baked Sweet Potatoes. A baked sweet potato as a side dish is a great choice as it adds color, more nutrients, and is incredibly easy to bake when you follow our fail-proof method.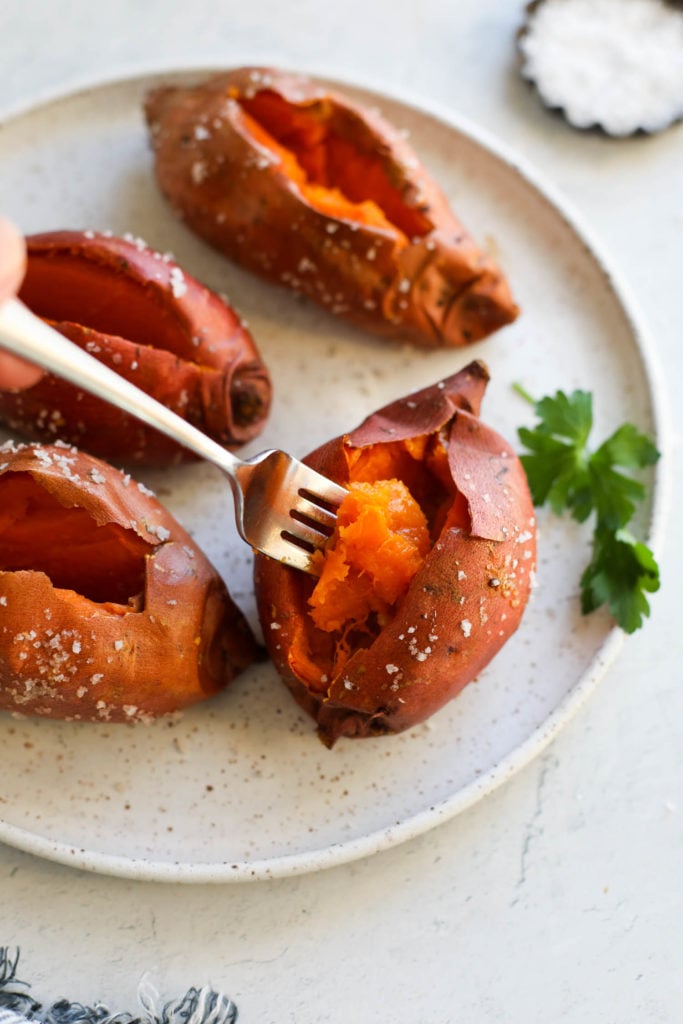 Sweet or Savory Oven Baked Sweet Potatoes
Sweet potatoes have a naturally sweet taste with their soft and fluffy baked insides, but depending on what you pair them with and the toppings you choose for the baked sweet potato, you can keep them on the sweeter side or turn them savory. Adding a small pat of butter, a sprinkle of sea salt, and a crack of coarse ground pepper is our all-time favorite way of topping baked sweet potatoes for lightly sweet yet savory flavor.
Ingredients for Baked Sweet Potatoes
For these no-fuss, easy Baked Sweet Potatoes, all you'll need is:
Sweet potatoes – choose a sweet potato that is medium-sized, has no soft spots, and is solid and heavy (softer hollow feeling sweet potatoes are past their prime)
Coconut oil – may use avocado oil, olive oil, or melted butter in place of the coconut oil
Sea salt – use your choice of coarse sea salt or fine sea salt
How to Bake Sweet Potatoes
If you've ever made a baked potato you'll know that there are countless ways to do it and everyone has a "trick" for the perfect sweet potato. A Google search will give you everything from wrapping them in foil to baking them with a fork stuck in the middle. And then there's the argument about whether or not you need to pierce them with a fork and if that speeds up cooking or keeps them from exploding. This recipe for baked sweet potatoes uses the same method that we use for baked potatoes. No fuss, no muss and always crisp on the outside and tender on the inside.
Easy Step-by-Step Instructions
Preheat the oven to 375 degrees and line a baking sheet with parchment paper.
Scrub the sweet potatoes under running water using a scrub brush if needed to reach every crevice. Be sure to scrub away any dirt to be able to enjoy the potato skins after baking as well. Pat dry.
Rub each sweet potato thoroughly with your choice of oil and sprinkle with sea salt (we used coconut oil and coarse sea salt as pictured). Place on the parchment-covered baking sheet.
Bake for 45-60 minutes or until a fork easily pierces through the skin.
Remove from the oven and serve. Or let cool completely, place in covered container, and refrigerate for up to 4 days for a meal prep option.
Do I have to use oil on my Sweet Potatoes?
Oiling the sweet potatoes then sprinkling them with salt isn't necessary but if you've gone the extra mile to get an organic potato and you enjoy eating the skin then this method won't disappoint. The skin comes out crispy and lightly salted and like your mother always told you, there are lots of vitamins and minerals (and fiber) in that skin so eat up and enjoy!
Our Perfect crispy skin baked sweet potato
We love to bake up our potatoes on meal prep day and store them in the fridge when we know we've got a busy week ahead and when waiting 45-60 minutes for baked sweet potatoes isn't an option. To reheat, warm them in the microwave or place in a covered skillet with a bit of water, set over medium-high eat until warmed through. The skin, however, will not be crisp once you reheat it (you've been warned) so if you'd like to get in on those crispy skins that contain so many vitamins and minerals, enjoy a baked sweet potato straight from the oven and keep any leftovers as your meal prepped ones.
How to meal prep baked sweet potatoes
Prepare the sweet potatoes as directed in the recipe card below, then allow them to cool completely before placing in a covered container. Place in the fridge for up to 4 days as your meal prep.
How to warm up Oven Baked Sweet Potatoes
To warm up the sweet potatoes, place desired amount in the microwave and heat for 35-40 second bursts until heated through. For stovetop, place in a skillet with a small amount of water (about 2 tablespoons for 1 medium sweet potato), place lid on skillet, and heat over medium-high heat until heated through.
Are Sweet Potatoes Healthy?
With a resounding yes! Here at The Real Food Dietitians, we love our sweet potatoes and add them to our weekly menu. Sweet potatoes are a very nutrient-dense root vegetable and you can read more about them in this article from Healthline.
Fiber – Sweet potatoes are high in fiber making them a great choice for a side dish
Antioxidants – A great source of antioxidants, sweet potatoes have been know to help lower inflammation
Gut-healthy – With the combination of fiber and antioxidants, sweet potatoes promote gut health
Beta-carotene – carrots aren't the only vegetable bursting with beta carotene. The orange variety of sweet potatoes with skin-on, actually have more beta-carotene than carrots, helping to promote healthy vision.
How to serve baked sweet potatoes
Move over marshmallows and brown sugar, these baked sweet potatoes no longer require too-sweet melted marshmallows or loads of brown sugar over the top to enjoy. We've all had the traditional Thanksgiving side dish of marshmallow topped sweet potatoes or sprinkled a bit too much brown sugar on top thinking that was the only way to enjoy them. Well, we're here with lots of options on how to serve baked sweet potatoes that will make your mouth water in anticipation of enjoying the meal! Everything from simple sea salt and pepper, to bbq shredded beef, to taco stuffed sweet potatoes.
Easy Baked Sweet Potatoes Turned Mashed Sweet Potatoes
We've had many requests for mashed sweet potatoes, when what we love to do is bake sweet potatoes then scoop out the fluffy orange inside and use as mashed sweet potatoes. An easy way to make mashed sweet potatoes without making a mess in the kitchen! Our favorite meal to add mashed sweet potatoes to is our Sheet Pan Chipotle Chicken Thighs with Broccoli. A little drizzle of homemade honey mustard over the top with a sprinkle of fresh herbs and these baked sweet potatoes become a savory match with the chipotle chicken.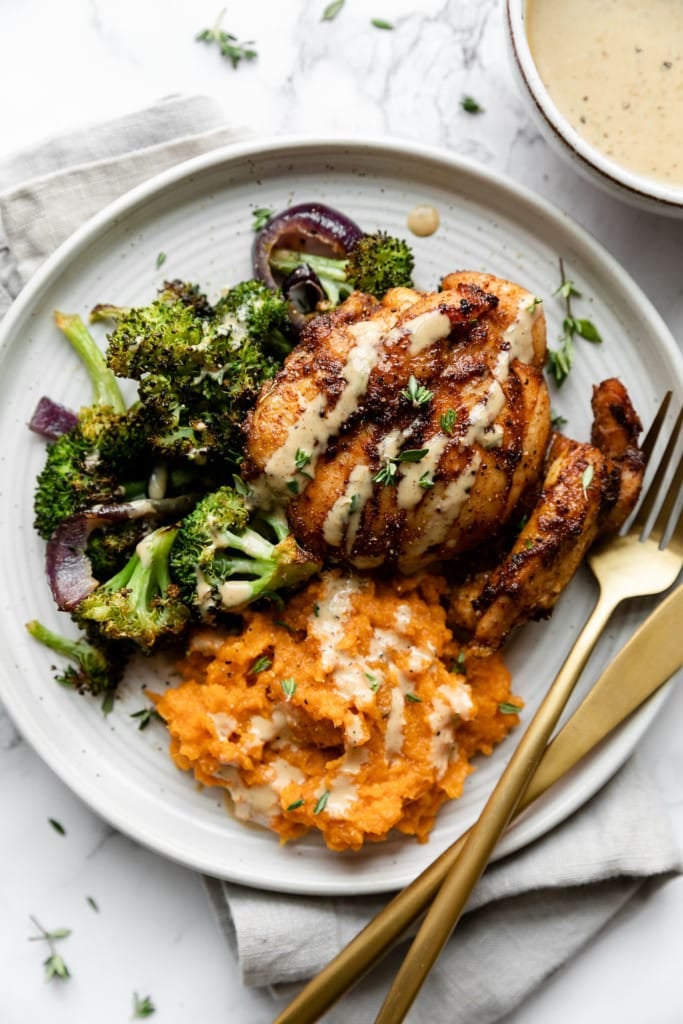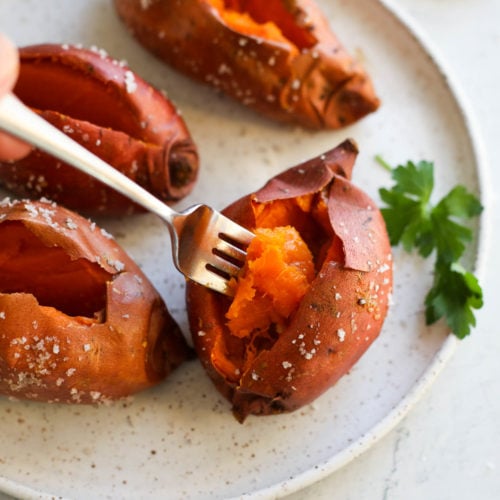 Recipe
Baked Sweet Potatoes
The perfect baked sweet potato is simpler than you think. Lightly oiling the skin and sprinkling with a bit of salt makes for a crisp skin and tender inside. These can be made ahead, refrigerated then reheated when on the menu to save time later in the week.
Prep: 10 minsCook: 45 minsTotal: 55 mins
Ingredients
4

medium sweet potatoes

1

–

2

teaspoons coconut oil (may substitute olive oil or avocado oil)
Coarse or fine salt
Instructions
Preheat oven to 375°F.
Wash the  potatoes and pat dry. Rub the potatoes with oil and sprinkle with salt.
Place potatoes on a baking sheet and bake 45-60 minutes or until fork-tender.
Remove baking sheet from the oven and serve. Leftovers may be stored in an airtight container in the fridge for up to 4 days.
Last Step! Please leave a review and rating letting us know how you liked this recipe! This helps our business thrive so we can continue providing free recipes and high-quality content for you.
Notes
Do not pierce the flesh of the potatoes with a fork or knife before baking. This will cause the flesh to leak from the skin and burn on the pan.
Nutrition Information
Serving Size:

1 medium

Calories:

155

Fat:

2 g

(Sat Fat:

1 g

)
Sodium:

55 mg

Carbohydrate:

30 g

(Fiber:

5 g

Sugar:

10 g

)
Protein:

3 g

Cholesterol:

0 mg
Dietary
© The Real Food Dietitians
Pin Now to Make Later
---
For ultimate success, we highly recommend reading the tips in the full blog post above. All photos and content are copyright protected. Please do not use our photos without prior written permission. If you wish to republish this recipe, please rewrite the recipe in your own unique words and link back to the source recipe here on The Real Food Dietitians. Thank you!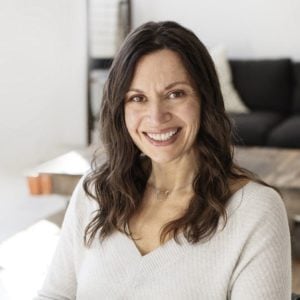 Jessica Beacom
Jessica is a Registered Dietitian Nutritionist living in Boulder, CO with her husband and two daughters. She's been described as a 'real food evangelist' and loves sharing her knowledge with others to help them break free of the diet mentality and find their own food freedom. In her spare time, she enjoys CrossFit, telemark skiing, mountain biking, and camping out under the stars.
Reader Interactions